A fire pit is a fun, useful feature that works in virtually all backyards. You can use it as a gathering place for friends and family, a cooking tool, and a source of warmth and light. Members of any generation can find enjoyment around the flickering flames. As a bonus, fire pits are usually fairly easy to install.
Whether you're installing your fire pit yourself or hiring a contractor to do it for you, there are a few fire pit best practices you should keep in mind. Mainly, you should know where and where not to put your fire pit. We'll discuss some outstanding fire pit spots, as well as some common placements you'll want to avoid.
Here are six places where you shouldn't put your fire pit – and where you should place it instead.

1. Somewhere illegal
If you're planning on putting in a new fire pit, the first thing you should do is check with your state, county, and HOA regulations. Drought-prone areas often have laws about when you can and cannot light recreational fires. Some HOAs also have rules about where you can put fire pits and how large they can be.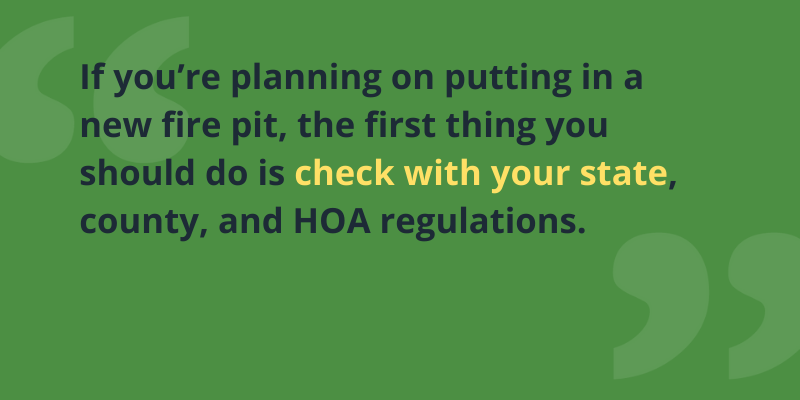 If your area is currently under a fire ban, it's probably not the best time to install this feature. Fines for illegal fires can be expensive! Contact your county and HOA for the most up-to-date rules and regulations.
2. Over a utility line
When you install a fire pit, there's a little bit of digging involved. You don't have to dig the pit too deep, but it's still a good idea to make sure you're not working over any utility lines.
Luckily, there's an easy way to find out where utility lines run in your yard. Call 811, the national call-before-you-dig phone number. You can also go to your local 811 center's website for current utility information. The service is completely free and available to both homeowners and contractors.
3. Right next to your house
This might seem like the most intuitive directive on our list, but it's one of the most dangerous fire pit mistakes you could make. Placing your fire pit next to your house or any other structure — such as a shed, barn, or detached garage — puts you and your property at risk of a fire. Most communities require you to leave at least 10 feet between your fire pit and your house.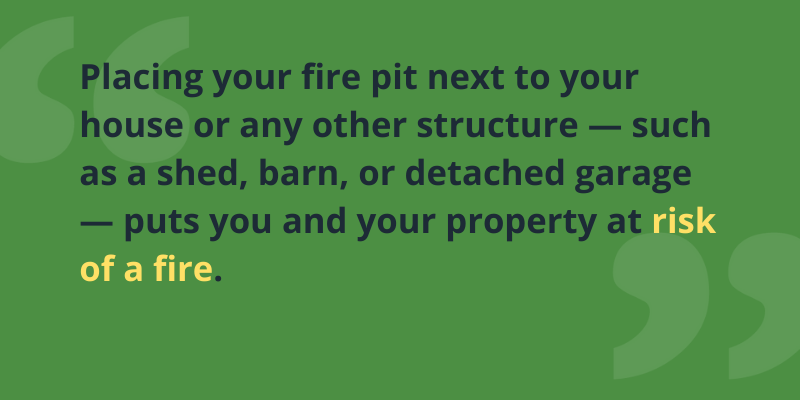 It's also important to consider the typical wind patterns in your yard before constructing your fire pit near your house. Placing your fire pit in the path of unfavorable wind could cause smoke to blow into open windows. The Department of Agriculture offers this helpful tool for determining the dominant wind in your area. Click on your state and your region to look at current wind patterns.
4. Under an overhead structure
There are two types of fire pits: wood-burning and gas-burning. Many people want to place a fire pit under a pergola or inside a pavilion, especially if this is where they spend most of their time sitting outside. However, only gas-burning fire pits are safe to use under an overhead structure.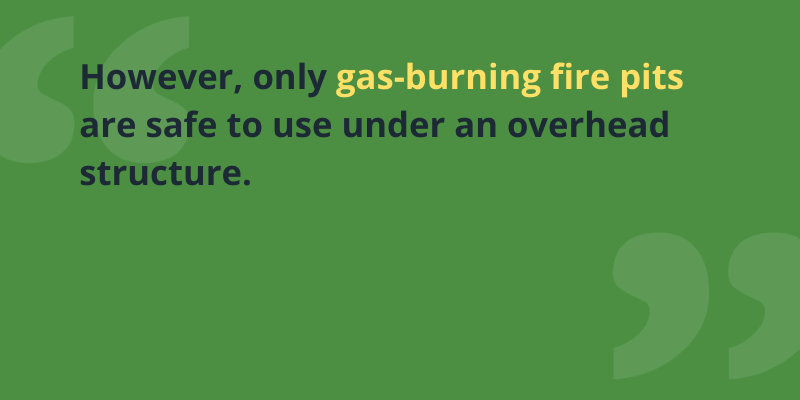 It's best not to enclose a wood-burning fire pit because the flames and smoke need plenty of room to move without endangering your property.
If you want to incorporate a wood-burning fire pit into your sitting area safely, consider placing it next to your pergola. You could extend your patio and seating from the edge of the pergola. This helps widen your space and maximize your favorite parts of your backyard.
5. Beside any large trees or shrubs
Trees and shrubs can have the same suffocating, dangerous effect as overhead structures. Try to place your fire pit in a flat, open space where plants or other backyard features won't crowd it. This goes for gardens, fences, hanging branches, and any other flammables.
Level ground and plenty of airflow are important. Remember that fire pits extend past their 3-5 foot diameter. They're often surrounded by a gravel or cement patio. This is for safety as well as appearance — if embers fly from the fire, you won't want them landing on your grass.
An optimal fire pit also has plenty of seating. Make sure people can comfortably move and sit around the fire pit without bumping into other backyard features or walking too close to the flames.
6. In an awkward spot
Fire pits come in different shapes and sizes, depending on your preferences. If you're opting for a round fire pit, it's best to place it in a somewhat rounded area. The same goes for a square-shaped fire pit. Putting your fire pit in a similarly-shaped space will ensure that you don't waste any room in your yard. Think about the curvature and shape of your desired area before you install your new fire feature.
Key takeaways
A fire pit can be a great addition to just about any backyard. Make sure to follow these guidelines for placement and safety so that you can get the most out of it while still taking care of your property and family. Prioritize space, airflow, and distance from utility lines. Before you know it, you'll be enjoying a lovely fireside evening with your loved ones.
If you're thinking of adding onto your backyard, reach out to us here at Green Okie for help. We can offer guidance on adding new features and help you with installation. Contact us today!