Born and raised in Oklahoma, Kevin Sutter has a passion for creating the unexpected. Combining that passion with his expertise in building and design, he founded Green Okie of Oklahoma City, where he and his experienced staff transform outdoor spaces into relaxing havens with custom-built pergolas, pavilions, patio extensions, outdoor fireplaces, outdoor kitchens, fire pits, decks and much more. The entire staff strives to take each project to the next level, putting customers first each step of the way.
Green Okie serves the Oklahoma City and Tulsa metro areas, manufacturing projects in the heart of Oklahoma City, just north of Will Rogers Airport. Each pergola or pavilion is pre-constructed and stained in the shop, reducing the mess made onsite during assembly.
Committed to quality, Green Okie hand selects the best western red cedar from suppliers, ensuring your new space – and the memories you will make – last a lifetime.
We believe a business should stand behind their work. That's why Green Okie only partners with businesses that do the same. All the Oklahoma City-area businesses listed here value quality and craftsmanship the way we do. That's why we feel comfortable recommending them to you – because we know you'll be happy with the results.
Bedrock Nursery
bedrocknursery.com
580.248.6337
Bedrock Nursery, a family-owned business in Lawton, Okla., has everything you need to make your yard healthy and beautiful. They offer a wide array of services including landscaping, lawn maintenance, water features, outdoor living spaces and more. They grow their own plants in their local growing houses to ensure the highest quality for their customers. Their staff is friendly and knowledgeable, and they pride themselves on going above and beyond for every client they are privileged to serve.
Green Okie has a pergola on display at Bedrock Nursery at 1802 NW 67th St. in Lawton.
D&E Custom Curb
decurbing.com
405.473.4892
D&E Custom Curb, located in Oklahoma City, is a one-stop shop for all your decorative concrete projects. They specialize in custom decorative curbing, acid staining, concrete overlays, patio extensions, sidewalks and landscaping. D&E works closely with customers to ensure complete satisfaction when the project is complete. Customers can choose from a variety of different styles or designs and customize the color to complement their home or business.
Foster's Nursery
fostersnursery.com
405.745.3500
Foster's Nursery & Tree Farm, a family run business located in Oklahoma City, specializes in growing and selling trees and offers a fully stocked nursery and multiple greenhouses. Foster's supplies plants, shrubs, annuals, perennials, garden vegetables, herbs, mulch, chemicals and fertilizers, garden decor and much more.
They also have an experienced team of landscape designers. They provide you with a drawn plan that fits your description, and they walk you through the process from beginning to end offering great one-on-one customer service from the initial meeting to installation. Let their staff help transform your home into something beautiful.
Green Okie has a pergola on display at Foster's Nursery, located at 7600 W. 119th St. (between Rockwell and Council) in Oklahoma City.
Minick Materials
minickmaterials.com
1.877.264.6425
Minick Materials, with locations in Oklahoma City, Edmond and Norman, offers hundreds of products for commercial and residential applications. They offer a large selection of flagstone, premium screened soils, sands, soil-enhancing products, building stone, landscaping stones, manufactured stone veneers, thin veneer stone, Belgard® pavers and walls and much more.
Green Okie has a pavilion-style pergola and a gold pergola on display at Minick Materials in Norman located at at 6665 N. Interstate Dr.
Why does Green Okie use western red cedar?
One of the world's most durable and versatile woods, western red cedar is naturally resistant to moisture, decay and insect damage. This makes it an ideal choice to use outdoors, since the surface will be exposed year-round to extreme temperatures, sun and rain. In general, it lasts longer and requires much less maintenance. Visit cedar.org for more information.
Will my new pergola crack?
Because western red cedar is a natural product – not impervious to surface cracks, wane and checking – our staff has the experience to repair and remedy any concerns quickly.
What type of stain does Green Okie use?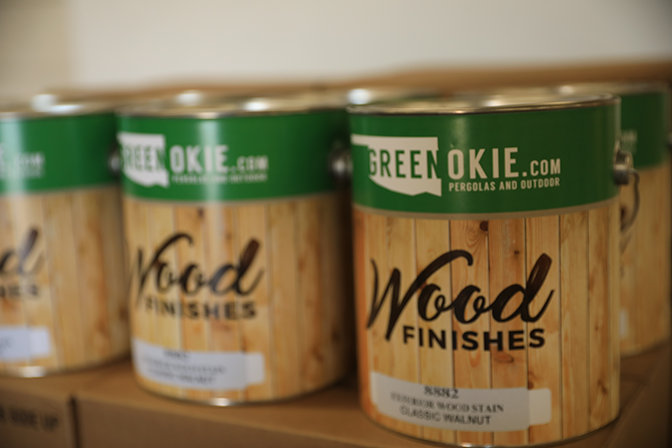 Green Okie working in conjunction with H-I-S paints and coatings has developed "Green Okie Wood Finishes" a premium oil-based wood stain. For more than 40 years, H-I-S Paint Company has been manufacturing paints and coatings in their Oklahoma City factories. Today H-I-S Paint ships coatings nationwide and internationally. https://www.hispaint.com/
You can now buy the same stain we use on our outdoor projects.  Always in stock at Green Okie in one gallon and five-gallon quantities, re-stain your Pergola, Fence, Deck or other projects.
Who does the electrical work? Do you have a licensed electrician?
We are not licensed to do electrical work, however, we will recommend a licensed electrician or you are free to choose your own. During assembly, we install LED lights to the pergola and the cedar platforms needed for ceiling fans, and then you will need to choose an electrician to finish the installation, including hanging your fan(s).
Does Green Okie provide 3D CAD (computer aided design)?
Yes. This amazing technology enables you to see your custom project in 3D before it begins. Available upon request. There will be a design fee.
How do you attach the legs of the pergola?
In most cases, when building on a patio or concrete, we drill holes in the concrete and install 5/8 all thread bolts using anchoring epoxy. We then attach a Simpson galvanized steel post anchor which elevates the leg off the ground for good drainage to ensure there are no cracks or holes that water can get into, freeze and cause cracking. In some cases, such as when building the pergola in the yard with no patio, we will need to dig and install concrete piers for the post anchor to attach to in order to support the weight. Regardless of the method we use to install the legs, there is a cedar boot or trim that covers all the hardware.
Do you use nails for construction?
No. We only use Big Timber ceramic-coated screws and fasteners (ISO 9002-certified). Also, unlike nails, our screws do not cause tannin bleed, which causes black streaks over time.
Do you attach anything to my house?
No. In most cases, nothing is attached or touches your house. The canopy or roof will go either over or under your eves. We always leave room to replace shingles or gutters in case of damage.
In some cases, we do utilize Skylift Roof Risers, which allow replacement of shingles. To learn more, visit our Skylift page.
Is there a warranty on my pergola?
Yes. Not only does Green Okie stand behind our projects with a one-year warranty, the products we use often have their own warranties. Suntuf polycarbonate roofing offers a 10-year hail damage warranty and the Wood Defender stain offers a two-year warranty.
Do I need a building permit?
Regulations vary as to the requirements for a pergola/pavilion depending on where you live. We will be sure to help you through any building permit process.
Will Green Okie help me get permission through my HOA (home owners association?)
Yes. Should your HOA require a permit, Green Okie will assist you with the paperwork and designs necessary to satisfy your HOA.