If you've recently decided to install a pergola, you're probably scouring the internet for design ideas. Whether you're in the middle of construction or haven't yet broken ground, we've got a few suggestions to help you spice up your new backyard centerpiece. Pergolas come in a variety of shapes, sizes, and styles. Look through this guide or browse our gallery to get ideas for your pergola!
The Basics
Before launching into specifics, we'll summarize a few basic pergola design concepts so you can choose the look you're after. Consider the size and shape that you want for your pergola. What do you plan to do with it? What will go underneath? Will it be all-weather, or will you use it mostly during summer? Answering some of these starting questions will get you on the way to the pergola of your dreams.

Size
Our basic pergolas come in a few different classes – Gold, Silver, Bronze, and Copper Economy. These classes refer to the size of the beams, joists, and framing used to build your pergola.
To choose an appropriate size for your pergola, you'll have to consider your available space, desired design, and budget. We design each pergola from scratch because no house or property is exactly alike.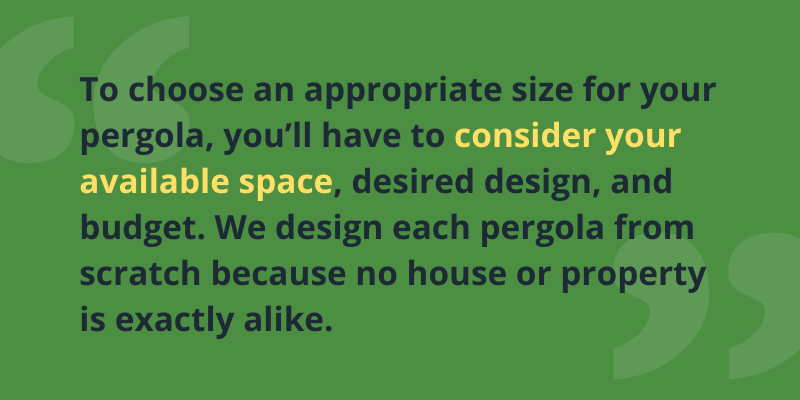 Shape
Generally, pergolas are square or rectangular in shape. However, they can also have round or hexagonal roofs. They can either stand alone or be semi-detached if you're planning to connect your pergola to your house. Don't feel limited by traditional pergola designs and shapes. At Green Okie, we value customization, and we strive to create the right pergola for every homeowner. Got a wild design idea? Let's talk about it and see how we can bring it to life.
Details and Add-Ons
A pergola isn't complete without some bells and whistles! We offer optional pergola add-ons, including lattice or tongue-in-groove siding, ceiling fan mounts, barn doors, shutters, and hardware.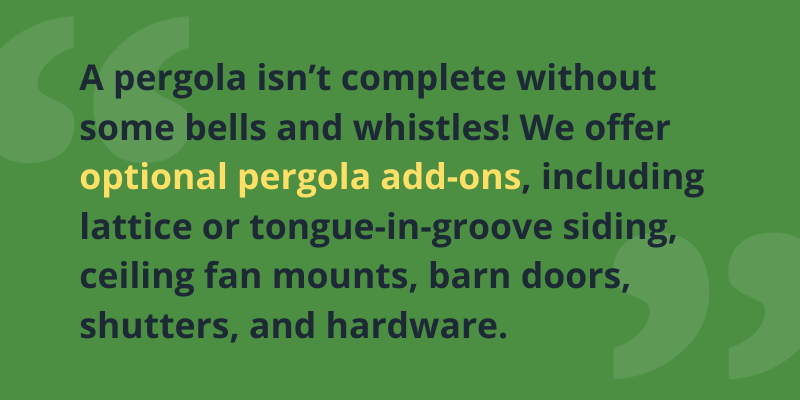 Consider the purpose of your pergola before you add details. Will it be a cover for an outdoor kitchen? A cozy hideaway for an outdoor gas fireplace? A poolside cabana? Thinking through these various scenarios will help you dress up your pergola the right way.
11 Design Ideas to Get You Started
Now that you've got the basics down, we'll list a few ideas to help inspire your search for the perfect pergola!
1. Standalone Pergola
A standalone pergola typically has four leg supports and stands separate from your household. This type of pergola is ideal for larger spaces. Use it as a poolside cabana, a picnic table cover, or a frame for swings. Long standalone pergolas can also cover outdoor walkways and patios. Standalone pergolas work as the centerpiece of a versatile gathering place, and they make a great addition to large events and celebrations. As you age, your backyard will change with you. Maintaining a multi-purpose pergola space will keep your backyard relevant throughout all the stages of life.
2. Skylift Pergola
If you have minimal backyard space — or if you want your pergola closer to your home — a skylift pergola might be the right design idea for you. These pergolas stand on 2-3 legs (depending on the pergola size) and attach to the stem wall (the load-bearing wall) of your home. Semi-detached pergolas make for great indoor-outdoor transition spaces. If you want to be able to move easily from the inside of your house to the outside, consider installing this type of pergola. If you want a pergola, but you're not sure if you have the yard space for a standalone design, then a skylift pergola might be worth a try.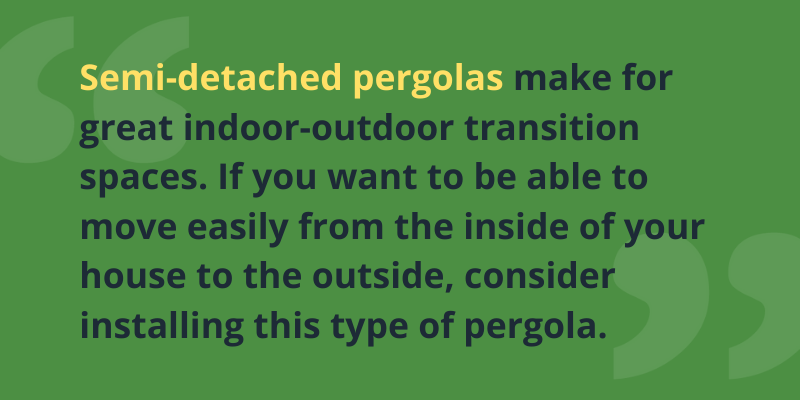 3. Pavilion-Style Pergola
A pavilion-style pergola sports a peaked roof, whereas typical pergola rooftops are flat. In public spaces, pavilions are most often seen as covers for park picnic tables. They can work the same way in your yard! If you want a pergola that also gives off a log cabin feel, consider looking into a pavilion.
4. Enclosed Pergola or Pavilion
Pergolas and pavilions don't necessarily have to be open to the elements. If you want, you can install walls or windows as part of your pergola in order to close it off to the outside. This way, you can experience the outdoors without leaving behind the comforts of the indoors. Here at Green Okie, we offer lattice or tongue-in-groove walls for our pergolas and pavilions. We frequently build windowed structures, as well. Closed-in pergolas work particularly well as greenhouses, bathhouses, steam rooms, or indoor-outdoor sitting areas.
5. Poolside Pergola
Every pool needs a sitting area, and a pergola can provide the perfect shady haven after a day of swimming. Pool owners like to transform their poolside pergolas into relaxing cabanas, complete with lounge chairs, curtains, and tables for drinks and snacks. Adding a pergola can tie your pool area together and provide a lasting sitting area for swimmers of all ages.
6. Outdoor Kitchen Pergola
Some homeowners use their pergolas as canopies for outdoor kitchens. Pergolas can help protect kitchen equipment and provide shade for backyard visitors. If you plan to cook or grill beneath your pergola, make sure you have proper ventilation — you don't want smoke to accumulate around your sitting area!

7. Outdoor Living Room Pergola
A pergola can also provide cover for an outdoor living room. Additions like seating, fans, and fireplaces tie the space together and add warmth to your backyard environment. Pergolas with fireplace compatibility need a little more explanation, so we'll elaborate on those in the next section.
8. Outdoor Fireplace Pergola
Outdoor fireplaces are part of a popular new indoor-outdoor design trend. If you want to add a fire feature to your pergola setup, we recommend either an enclosed fireplace or a gas fire pit. It's not safe to build a wood-burning fire pit below an enclosed structure. We build both wood and gas fireplaces from natural stone. If you request a fireplace as part of your pergola, we'll install a chimney to direct smoke up and out of the structure.
9. Greenhouse
As we mentioned above, enclosed pergolas or pavilions work well as backyard greenhouses. Having a greenhouse lets you grow plants that aren't native to your area, including tropical, wet-climate varieties that can't grow without a greenhouse. If you have a passion for plants, consider expanding your garden!
10. Playground or Swingset
Pergolas can work as part of a swingset or as a simple frame for swings. We build small pavilion-style overhangs for playsets so that children can play in the shade. When your kids are at play, hook the swings to the pergola frame for an afternoon of fun. When they're finished, simply detach the hardware and use your pergola as a sitting or dining area.

11. Pergolas with Lighting
Pergolas act as a great framework for outdoor lighting. They're perfect for hanging string lights, outdoor lamps, and Christmas lights in the winter. No backyard is complete without the right lighting, so consider using your pergola to hang the bulbs of your choice.
The Last Word
If you're looking to install a pergola or jazz up the one you already have, consider applying some of these ideas. A pergola is one of the most versatile, lasting features you can put in your backyard, so don't hesitate to get creative! And, if you need further guidance, reach out to us here at Green Okie for help. We're always happy to help customers choose the pergola design that's right for them.