Planning an extensive outdoor project can be both exciting and stressful, so it's important to have an attentive contractor by your side throughout the process. Your contractor should listen to your design ideas, offer helpful guidance, and provide quality craftsmanship. Efficiency, availability, and flexibility are all important qualities to consider in your contractor. Below, we'll go over a few key questions to ask before you partner with a contractor long-term. And remember — at the end of the day, follow your gut. You should feel comfortable and connected with your contractor, especially for big projects.
1. How long is the response time?
If you call or email with a question or concern about your project, how long does it take for your contractor to get back to you? Are you stuck waiting for days at a time? Does a slow response hold up your project and make your stress skyrocket? Great contractors try to minimize waiting periods for their customers. You'll want to get your questions answered quickly, so a contractor should have availability in-office and over the phone/email. This makes it easier for customers to contact their contractor during any stage of a project. Of course, it's best not to rush any aspect of a project, but contractors should still be efficient. After all, they have lots of experience with many types of projects, which helps them tackle renovations swiftly.
2. Do they have good listening skills?
Quality contractors work hard to bring their customers' dreams to life. They act as the bridge between an idea and the finished product. A contractor brings quality materials and craftsmanship to the table so customers can get the renovation they want. If you suggest an idea to your contractor, how does he respond? Does he enable your ideas, or does he try to steer you in a different direction? If he does suggest a change, is it because it's the best solution, or because it's the easiest one?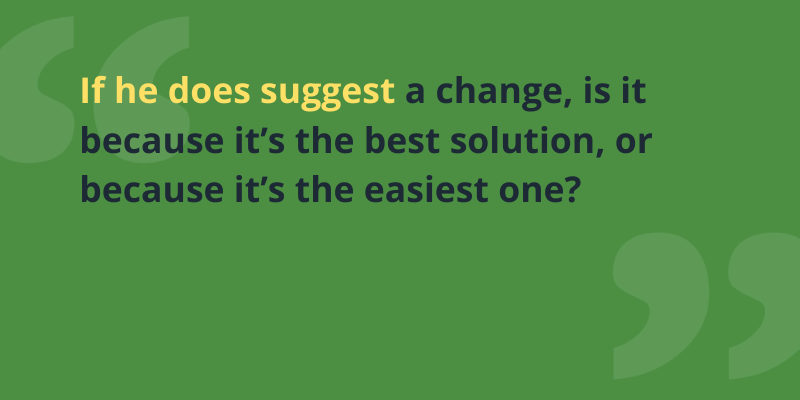 Your contractor should listen to your design ideas and offer suggestions that fit your tastes and needs. He or she will act as your link to the labor and materials you need. A contractor isn't there to take complete control of your renovation. You should feel like you're in the driver's seat while still working together.
3. Do they know your name?
This might not look like the most important question on this list, but it can say a lot about a contractor and how they do business. Long-term projects require extensive cooperation between homeowners and contractors. When you speak to your contractor, does he recognize you? Does he remember the details of your renovation? If you stop into the shop or office, is he attentive to your needs? Contractors should make an effort to get to know their customers. This ultimately ensures a better understanding of your vision and a successful renovation.
 4. Do they take pride in their work?
Though it sounds simple, choosing a contractor who enjoys what they do can enhance your customer experience. Is your contractor knowledgeable about the materials he uses? Does he offer pros, cons, and alternative options if needed?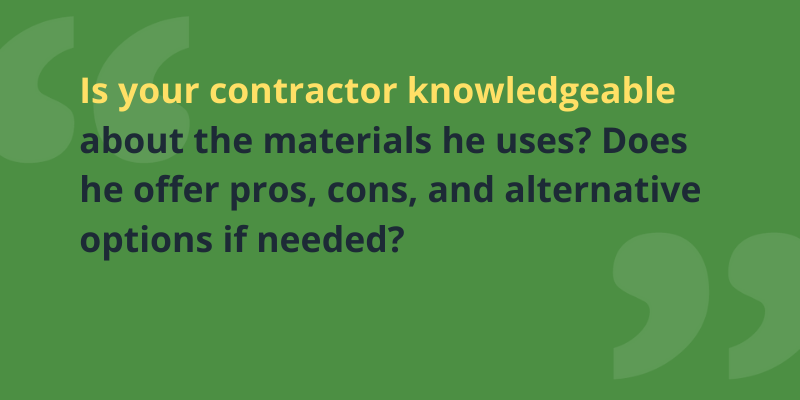 Choose a contractor who enjoys his work and brings plenty of knowledge and experience to your project. A good contractor doesn't view customers and projects as chores, so select someone who values your business and takes pride in their work.
5. Do they assign one lead employee to your project?
Larger contracting companies can put their customers on a carousel of different consultants. This makes it hard for clients to form a connection with a single contractor. Do you struggle to get a hold of the contractor working on your project? Are you often referred to other workers you don't know? When you call your contracting company, are you able to get in touch with someone you trust? Smaller contracting companies operate on a client-to-client basis, making customers feel valued. If you want to feel secure in your renovation, you may prefer a smaller company that prioritizes client relationships and takes a personal approach to its customers.
6. Are they transparent about pricing?
Let's face it – costs can be the least fun part of a big outdoor project. Pergolas, pavilions, and decks are big investments, and your contractor should be clear about pricing and budgeting. The best contractors budget alongside homeowners so that they can achieve their dream renovations without breaking the bank. A clear budget is a win for the client and the contractor because it builds a trusting relationship and opens possibilities for repeat projects in the future.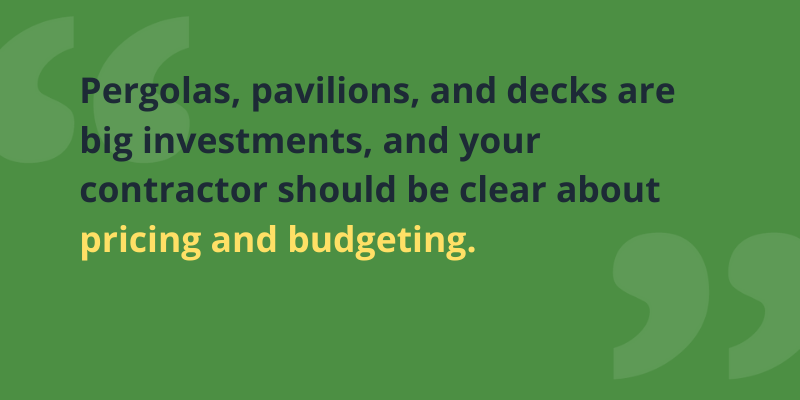 7. Do they help you outsource work if necessary?
If your project is outside your contractor's speciality, can they recommend other trusted specialists? For example, do they have strong relationships with contractors who create custom pools, landscaping, custom fountains, or koi ponds, or are they just grabbing the first name they can find out of the phone book? Good networking is an important quality in a contractor and can alleviate customer stress. Prioritize resourcefulness when choosing a contractor. Work with someone who helps organize your project and successfully outsources other specialists if needed.
Our Approach
At Green Okie, we pride ourselves on our individualized customer approach, quality craftsmanship, and client connections. We forge genuine relationships with our customers because we believe that you deserve quality, trustworthy contracting work. Our shop is open during regular business hours to drop-in customers who need help with new or ongoing projects. In addition, we make sure that clients are always working with familiar, friendly faces. Every project is unique, and so is every customer. The best part of our job is forming partnerships with homeowners and creating beautiful, lasting projects. We'd be honored to be part of your outdoor project, whether you're just starting to get ideas for your space or you're ready to start construction right away. You can either speak with a design expert or get a quote to get started.