Concrete can serve a surprising amount of purposes beyond industrial projects. It's a versatile, budget-friendly alternative to stone and block. If you're looking to construct or renovate a patio, driveway, or even a floor, consider using concrete.
Before you undertake a concrete project, it's important to know the definitions of a few common terms. For example, "concrete" and "cement" are not interchangeable. Cement is a powdered substance that acts as a binding agent for concrete, but concrete has other elements, too, like sand, gravel, and water.
Though concrete might initially sound a bit boring, it comes in a variety of colors and finishes. You'd be surprised at how many different looks you can achieve with concrete! We'll summarize a few common types here so you can choose one that's right for your renovation.

Plain Concrete
Before we get to the fancy stuff, it's worth putting in a word for plain old concrete. Basic concrete has several subtypes that are good for different projects.
In its simplest form, concrete is 1 part Portland cement, 1 part sand, 1 ½ parts gravel, and ½ parts water. You can buy these ingredients and mix them yourself. However, there are also lots of ready-made types of concrete that are better suited for certain projects.
Fast-setting concrete
Fast-setting concrete has all the ingredients of regular concrete, plus a super-fast drying time. While normal concrete usually takes about 10-12 hours to set, quick-dry concrete cures in 20-40 minutes.
Use this type of concrete for fast, smaller projects, like setting fence posts.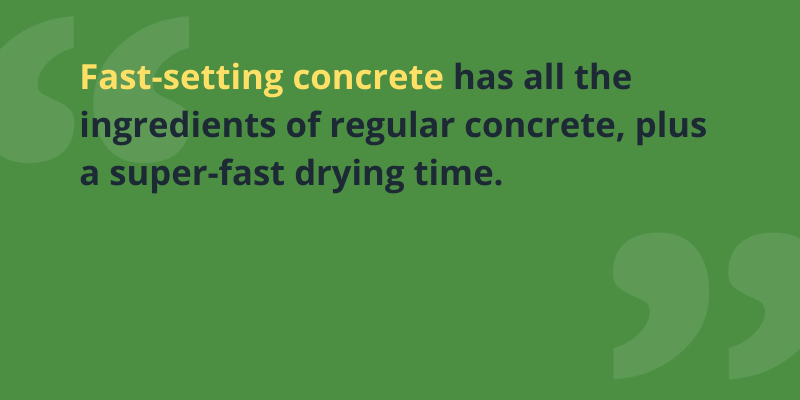 High-strength concrete
High-strength concrete uses special additives to fortify the mixture. These might include certain minerals or adhesives. The strengthened mixture makes it especially good for larger, lasting projects, like pouring foundations.
Crack-resistant concrete
Crack-resistant concrete contains aggregates that keep it from cracking. This type of concrete is good for visible concrete areas like driveways or porches. If you're installing a feature that will see lots of foot traffic over time, consider using crack-resistant concrete.
Dyed vs. Stained Concrete
Did you know that you can dye or stain concrete to achieve certain visual effects? If you're using concrete indoors or for a fancy outdoor patio, colored concrete might be a great design element for you.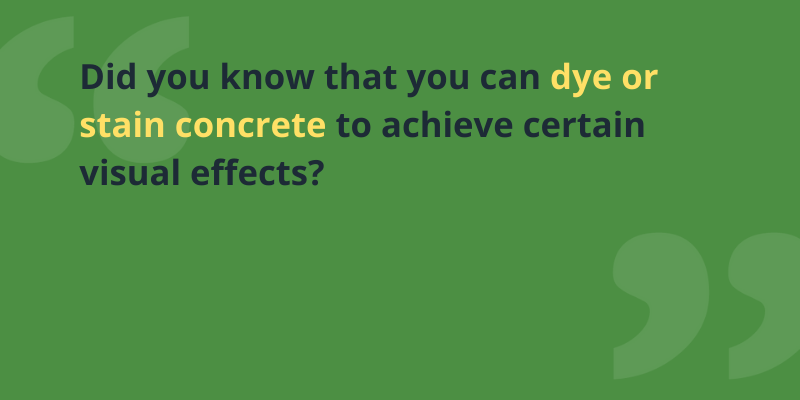 So, what's the difference between dyeing and staining? Stains chemically react with the concrete to create permanent color patterns. Concrete dyes are nonreactive add-ins. You can mix these together to color the concrete.
Popular concrete colors include blue, brown, red-orange, and gray. Dyes and stains can make the concrete look like natural materials. Ambitious homeowners can combine colors with a finish to mimic the look of water, stone, and marble.
Depending on your situation, concrete dyes can be easier to use than concrete stains. A stain has to settle into the concrete in order to work, and the chemical reaction can vary by environment. Some types of concrete are more porous than others, and these might be more receptive to stains. You may not know exactly how a stain will come out before sampling it.
Dyes are almost as permanent as stains. They're made of smaller particles, so they penetrate concrete more effectively. Dyed colors are also richer and easier to manipulate to get the appearance you want. If you have a specific look in mind, using a dye might be a safer bet than using a stain.
Matte vs. Glossy Concrete
There are many types of concrete, but there are also different types of concrete finishes. Homeowners can choose between matte and glossy epoxies to finish off their concrete. These are best used indoors or on covered patios.
Matte and glossy concrete are both easy to maintain, and they're often a cheaper option than stone or other pricey materials. They can also mimic the look of more expensive options without breaking the bank.
Glossy concrete reflects light and makes for a dramatic finish, especially over dyed or stained concrete. You may have seen glossy concrete flooring in art museums or other high-traffic areas.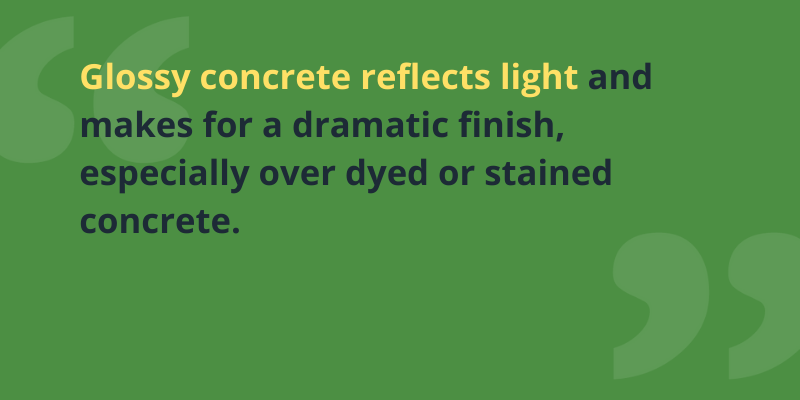 Matte concrete is finished, but it's not as shiny as glossy concrete. Think of the floor in warehouse-style stores. If you like a more subtle, relaxed look, then a matte finish might be right for your project.
Stamped concrete
If you love the look of stone flooring, but you're not thrilled with the price, stamped concrete might help you get the look you want. Stamped concrete mimics the look of stones or pavers by stamping a pattern into a slab of concrete. You can also use dye or stain to achieve a custom look.
Stamped concrete can fit into almost any area of your property, including your driveway or patio. You can even create great cohesion between your indoor and outdoor spaces by using the same stamped concrete inside your home. Its indoor-outdoor uses — and its price tag — make it an attractive option for homeowners who want to stay on budget without sacrificing the chic look they've been dreaming of.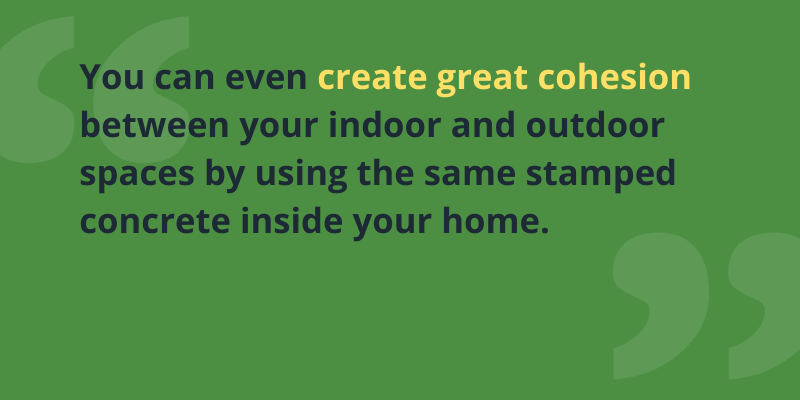 Be aware that stamped concrete might not be as durable as stone or block, and it could crack or chip over time. In addition, it can be slippery, so buyers must be cautious if they're putting this type of concrete next to a pool or other hazard. Finally, stamped concrete doesn't hold up well under ice-melting salts, so homeowners will need to find another way to clear their patio during the winter.
Which is Right for You?
If you're still not sure which of these concrete options fits your design plans, reach out to the design experts at Green Okie for help. We know backyards, and we'd be happy to guide you through every step of your renovation — concrete included!