For some homeowners, a backyard is an extension of their household. It can act as a gathering place, a natural getaway, or a fertile landscape for flowers and vegetables. For other people, a backyard isn't as much of a priority. It's easy to get caught up in your busy life and forget that you have a boundless space right outside your door.
When you invest in your backyard, you create a versatile space that you can enjoy for years to come. Read on for our top reasons to prioritize your home's outdoor space.

1. Create a place to gather with loved ones
No matter which stage of life you're in, investing in your yard will help you use it as a gathering space. Plus, the options are nearly endless. Try:
Adding outdoor furniture creates lounging space for spending time with friends and family.
Adding outdoor kitchen features – like a grill, barstools, and a fridge – for fun, easy barbecue parties.
Installing playgrounds or swing sets where your kids and their friends can burn some energy.
Installing a pergola. You can add a canopy for a covered seating area or use the frame to mount a porch swing.
Building a fire pit or outdoor fireplace for an ambient gathering spot. As an added bonus, you'll have a place to make s'mores with your loved ones!
2. Create a staycation oasis at home
Let's face it – vacations are great, but sometimes you're in the mood to stay local. Other times, travel isn't possible because of local quarantines or a simple lack of funding. With just a few additions, your backyard can become a tranquil oasis so you can feel like you're on vacation without ever leaving the comfort of home.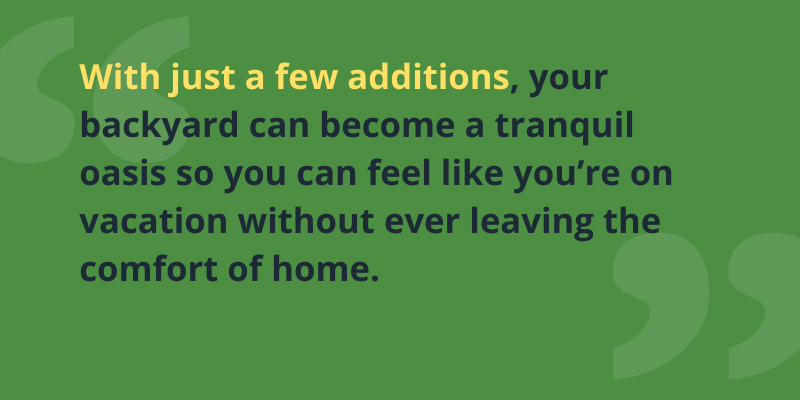 Natural landscaping additions can also help your yard feel more like a retreat. Consider planting more foliage or adding a creek. Trees, ponds, and large boulders also add to the look and feel of your yard.
3. Year-round fun
Even if you live in a place with snowy winters, your backyard can be a source of fun all year long. If your yard has a slope, use it as a sledding hill on snowy days. Build a snowman or pick a snowball fight with your friends and family!
If you're not a fan of snow, you can create a heated, covered patio so you can watch your kids or grandkids play in the snow while you stay roasty-toasty inside. If you're in need of indoor-outdoor inspiration, check out some of our closed-in pavilions.
4. Your yard is good for your health
Investing in your yard and spending time outside is beneficial for your health. A backyard provides great fresh air, and it can be a source of physical activity. This is especially true if you're into gardening or yardwork. Spending time outdoors has many proven health benefits, so head outside and get your body moving each day!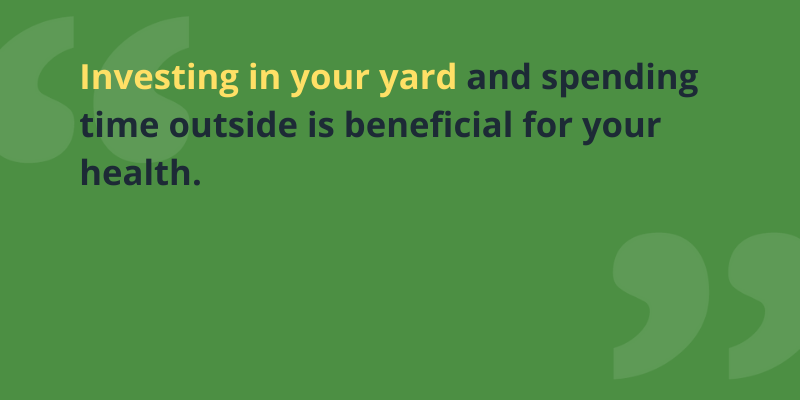 5. Lifelong benefits
Like your home, a backyard is a great place to make memories throughout all stages of life. Use it to host "Friendsgivings" during your twenties, then transform it into a play area during your child-rearing years. After your kids have grown, your yard can become a retirement oasis  where you can enjoy a relaxing fireside drink every weekend.
6. Help out the environment
Your yard can boost your health, but it can also help improve the surrounding environment. Gardening and composting improves the health of the soil and introduces nutrients back to the earth. Filling your yard with plants promotes oxygen circulation throughout the neighborhood. This helps you, your neighbors, and your yard stay healthy all year long.
7. Your yard can be a hobby
If you're newly retired or simply seeking a new passion, look no further than your own backyard! There are plenty of outdoor hobbies you can take up from the comfort of your own property. These include gardening, landscaping, composting, birdwatching, beekeeping, and more. Depending on your local HOA rules, you might even be able to keep small animals or poultry. Backyard hobbies enrich your life and help you make the most of your outdoor space!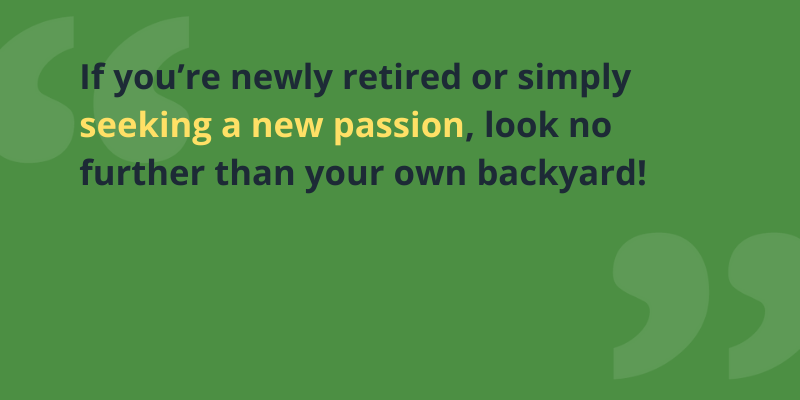 8. Use your yard as a venue
As you go through life, you'll likely need a beautiful venue for a few momentous events. Investing in your backyard gives you the perfect place to host those special celebrations,  as well as a great day-to-day living space. For example, you might want to have an intimate backyard wedding for your daughter or host your son's graduation party. You may even put on a smashing retirement party for your spouse. With enough foresight and planning, you can use your yard to host celebrations large and small.
9. Up the resale value
If you're just starting out at a new property, you're probably not thinking about selling it yet. However, it's a good idea to keep your future sale in mind when you invest in your property. Improving in your yard can increase the value of your house when you sell it later on.
That said, increasing the resale value of your home can be a tricky process. Make sure to strategically add large features such as swimming pools and play areas — these may add value to your home, but only if they're a consistent feature in your local neighborhood.
10. Expand your living space
Investing in your yard can help you expand your available living space. New indoor-outdoor designs aim to blend the household and the yard. Merge your outdoor kitchen with a glassed-in dining area, or install an outdoor fireplace beneath a protective pergola. There are countless ways to combine your indoor spaces with your backyard for a unique, tranquil living space.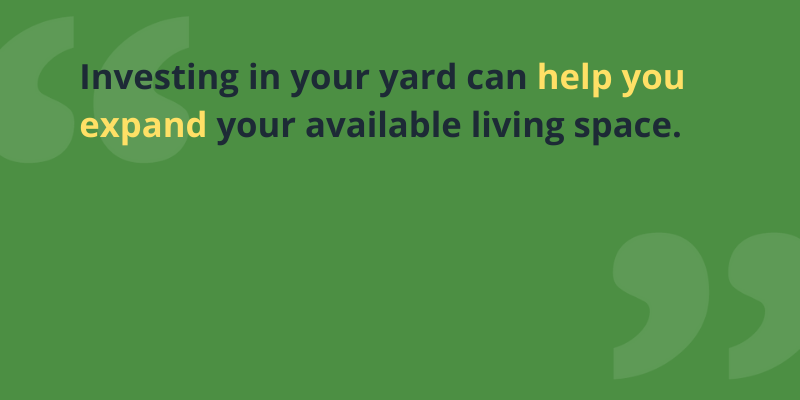 Final thoughts
Though you might think of your yard as being secondary to your house, it can be a great place to gather and relax all year long. Strategic investments will help you improve your outdoor space for plenty of enjoyment and, eventually, a valuable resale. Consider putting some money into your yard – you'll appreciate the versatility and lasting value of your new outdoor features!