Adding a cover is hands down the best way to get the most use out of your patio all year long. Whether you want to relax in the shade on a blistering summer day or sip coffee and enjoy the smell of rain on a drizzly morning — a covered patio is the way to go.
Two of the most popular patio coverings are pergolas and patio extensions. Both share a similar purpose but differ in structural design and total cost.
To make an informed decision, it's important to consider the pros and cons of each option. If you're thinking about installing a pergola or patio extension and want to learn more, here are a few key points to keep in mind before making your final decision.

Pergolas
Pergolas are a great feature for any patio that could use some more shade and character. The signature feature of a pergola's design is the lattice beams across the top that create an airy, whimsical atmosphere — perfect for growing ivy or other climbing greenery for those that are interested in this open air option.
Pergolas may also be covered with our polycarbonate roofing material. The polycarbonate material that we use blocks out 99% of the sun's harmful ultraviolet rays, is slightly tinted, and also provides protection from the rain. A roof allows you to customize your space by adding lights, hanging fans, and more, while keeping them protected from the elements.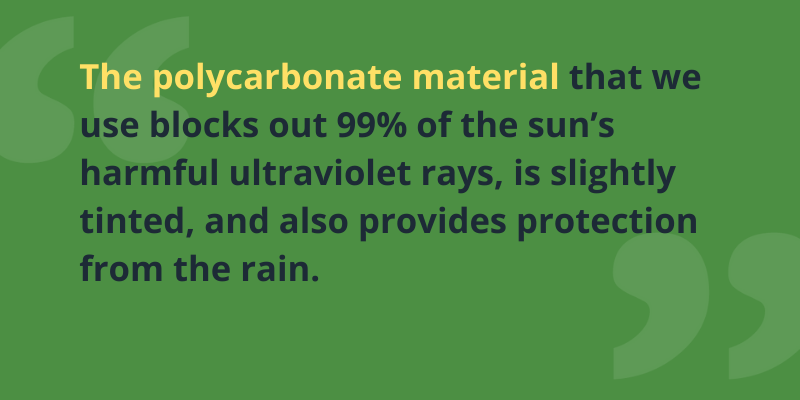 Structural factors
A pergola is an ideal addition for anyone looking for partial coverage of their patio. Because a pergola's roof doesn't have to be completely solid, the open space in the roof allows sunlight to filter through. The amount of shade your pergola provides depends on the spacing of the lattice runners on top. You can customize your ideal amount of shade by spacing the runners closer or further apart.
If you have large windows facing your patio and you want to allow as much natural light through them as possible, a pergola will be more accommodating than a solid patio covering.
Financial factors
There are exceptions, but generally, pergolas are less expensive than patio extensions.
Because pergolas are freestanding structures that don't require attachment to or support from your home, you're likely to save money on materials and construction costs.
Additionally, pergolas don't have a shingled roof. You'll never have to worry about replacing shingles, which can lessen your maintenance costs down the road.
Patio Extensions
Patio extensions are ideal for anyone looking for a more permanent patio addition that provides complete overhead coverage. When done right, a patio extension can look as though it's always been a part of your home rather than a separate structure that you added later.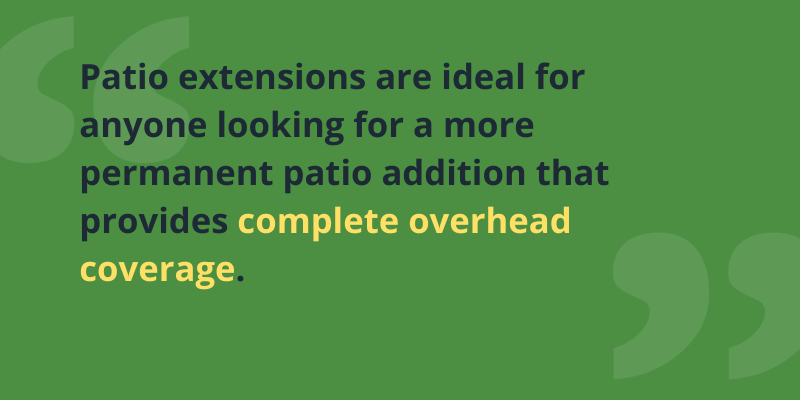 Structural factors
One big benefit of patio extensions is their solid roof. With total protection against the sun and unpredictable elements, you have unlimited freedom to customize your outdoor space with features such as ceiling fans, speakers, or a mounted television.
Patio extensions are also structurally attached to your home. You even have the option of connecting ductwork between the extension and your house so that you can heat and cool your patio during any season.
Additionally, you can choose between a flat or pitched roof and use the same shingles as the rest of your roof to perfectly unify your new extension with your home. However, a patio extension may not be the right choice for every home because, sometimes, it can overpower the space.
Financial factors
When it comes to price, as we mentioned earlier, patio extensions are typically pricier than pergolas.
Patio extensions present a larger construction project due to their solid roof, large cedar components, and structural attachment to your home, which means upfront materials and construction costs will be higher.
However, a patio extension does have the potential to save you money on your home utility costs.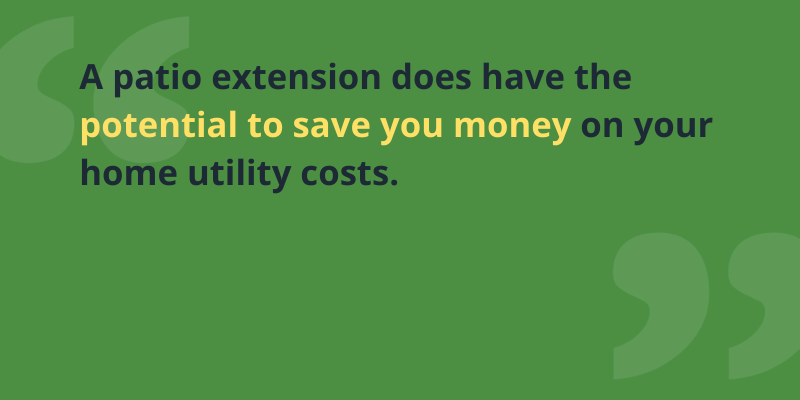 Do you have a west-facing room that looks out onto your patio and gets a lot of direct sunlight? In the summertime, this room probably requires near-constant air conditioning. Adding a patio extension and limiting sun exposure to that room would likely reduce the amount of cooling it requires, saving you money on your next utility bill.
Don't rush your decision
Installing a patio covering is an investment, and choosing the best option from the start is the easiest way to avoid costly changes mid-construction.
If you're still debating whether a pergola or patio extension is right for your home, don't hesitate to contact a Green Okie expert for advice. With just one picture and the measurements of your space's length and width, we can give you quotes over the phone or via email. We're also available to take a look at your outdoor space in-person to help devise the ideal plan for your yard and answer any questions you may have.
If you're ready to get started, call us today for a free quote and get one step closer to your dream patio.