Pergolas can be a great addition to an outdoor space, but their true beauty lies in the way they bring your family and friends together. Choosing the perfect spot for a pergola depends upon your style preferences, as well as a few pragmatic factors. Great designs maximize the aesthetic form and beauty of your entire outdoor space, while also maximizing the yard's functionality.
In this article, we'll share four things that you should consider as you decide where to place your pergola.

How much shade do you want?
Pergolas offer great shade that you can customize depending upon where they are in a yard, what type of roof they have, and the direction of the beams. For example, wide, open rafters do provide quite a bit of shade, but not as much as a covered roof. Rafters oriented north to south will provide more shade than those oriented east to west.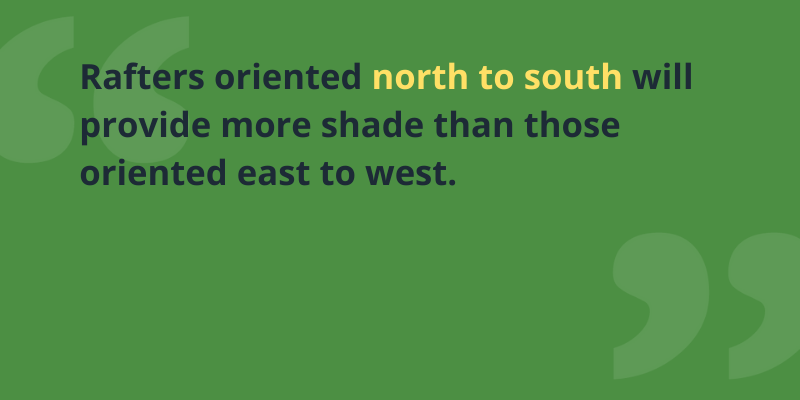 If you place your pergola directly beside your home, it can affect the amount of sunlight that filters in. If you want to maintain as much natural light indoors as possible, then you may prefer open rafters. However, if your goal is to provide shade to a west-facing room that gets hot in the afternoon, then a covered roof might be your best option.
The climate in your area also plays a role in determining the type of roof that's best. Homeowners in areas that experience a lot of summer heat, such as Arizona, may prefer a covered patio that provides maximum protection from the sun. Homeowners in mild, temperate climates that get a lot of snow may prefer open rafters where the heavy snow will not accumulate and damage the roof.
What fits your yard the best?
Where are the best views from your yard? If you have a beautiful lake view or a spot in your yard where you love to take in the sunsets, then consider placing your pergola there. The addition of outdoor seating is a great way to take advantage of exceptional views.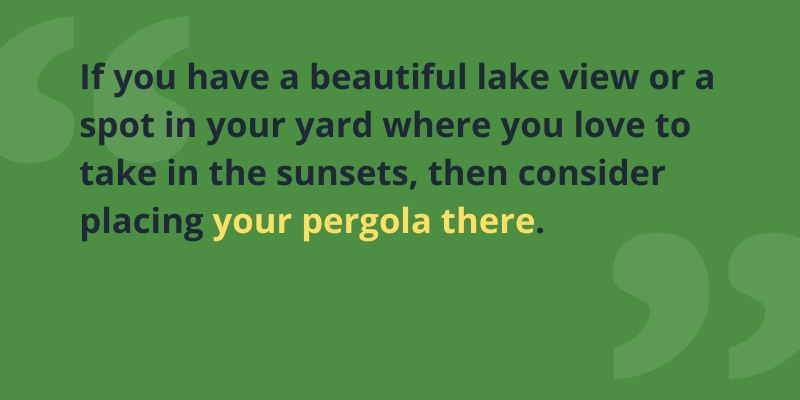 Also, consider what fits with your existing landscaping, or your plan for future landscaping. Pergolas provide considerable shade on their own, but you can create an even more cozy, cool spot if you place a pergola in proximity to a tree or two. If you favor the aesthetics of vines, consider adding lattice work to your pergola. Over time, the vines will grow and create a serene, secluded spot.
How will you use the space?
Will you enjoy your pergola primarily in the morning hours, midday, or in the evening? The way you orient the pergola and how you place the beams can maximize or minimize the amount of sunlight you get at different times of the day.
If you see yourself hosting get-togethers, then you should place the pergola near other outdoor staples like a grill. People gather where there is seating, so it would be a shame to be flipping burgers across the yard from all the action. On the other hand, you can create a special space that provides a lot of peace and solitude by placing a pergola out in your yard away from social spaces.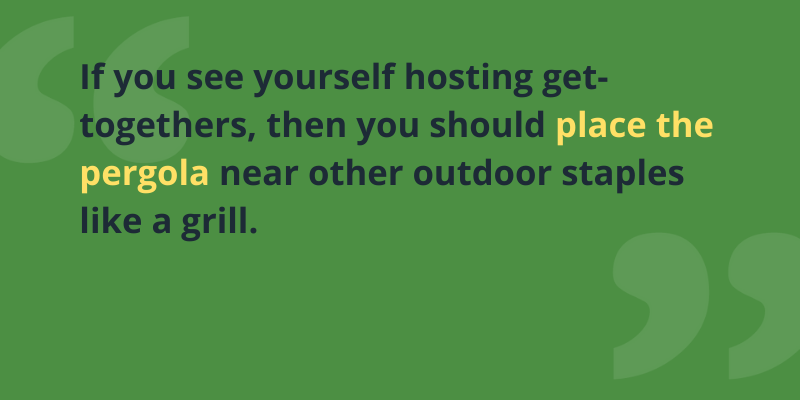 One of the most popular places to install a pergola is beside the house because it creates an indoor-outdoor space that you can use fluidly. The patio and pergola become a natural extension of the home that is easy to use year-round.
Is there a special spot you want to highlight?
We've had many homeowners use pergolas to create unique focal points where none had previously existed. For example, if you have a beautiful stone walkway, you can turn it into something truly magical with the addition of a pergola. Add a few strands of lights and some vines growing up the sides to turn a simple walk across the yard into an immersive Zen experience (that kids will also love!).
Homeowners who love to garden often add pergolas above their raised beds. Not only does it protect you from the sun and heat while you work in the soil, but it also creates a focal point around your garden. Add a few hanging pots to take your growing haven to a whole new level.
If you crave a private oasis where you can relax and find peace, create a small sitting area inside a semi-enclosed pergola. You can sneak away and forget the world by yourself or with your closest loved ones.
Unfortunately, there are wrong spots for a pergola
There are so many right spots for a pergola, but there are also a few wrong spots. Before you begin your project, make sure that you create a clear plan. Putting in the time up front is better for your budget than starting a project and then having to make changes along the way.
If you're not sure which spot is perfect for your pergola, get in touch with a Green Okie design expert. We've helped hundreds of homeowners create their outdoor dream spaces, and it all starts with a great plan. Let us know how you see yourself using your space, and we'll help you bring your vision to life.