Nothing beats an ice cold drink in the shade after a long summer day. Prop your feet up and enjoy the crisp cool breeze under your gorgeous pergola as you watch the butterflies.
Maintenance is a necessary part of owning a pergola because it keeps the wood looking great and extends its lifespan. However, we know how busy modern families are. Green Okie uses only the finest Western Red Cedar, plus our proprietary oil-based stain to enhance the longevity of our pergolas and make maintenance and stain reapplication a breeze.

Easy to maintain pergolas
Are you worried about how much maintenance a pergola will require? The good news is that high-quality pergolas are easy to maintain!
How often do I have to stain my pergola?
If your pergola has a polycarbonate top, it'll block UVA and UVB rays, protecting your pergola and your outdoor furniture from sun damage. You will still need to touch up the legs and areas of the pergola's frame that stick out with an oil-based stain every 3 to 5 years. You don't have to prep the wood in any way,  just reapply the stain.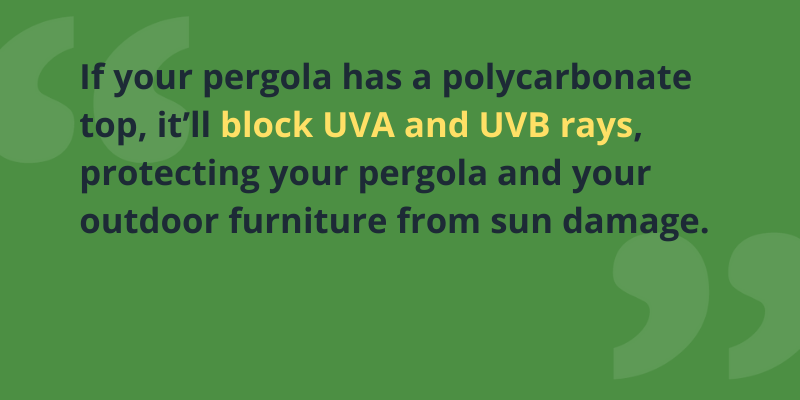 Lattice work typically lasts as long between stainings as the average legs, but areas that receive direct sunlight may require more frequent touch-ups. Constant spraying from sprinklers can also wear away your stain quickly, so you may want to re-calibrate any sprinklers that hit your pergola.
After years of testing, we've developed our own high-quality stain. You can purchase it from us directly, or we can come to your home and re-stain your pergola so that you don't have to worry about it.
Over time, your pergola will change color as the cedar weathers. In order to preserve the original color, you can use a stain and sealer. On the re-stain, the cedar is much more open and actually accepts more stain. So, this second round will be even darker than the first because the wood accepts more pigment and oil.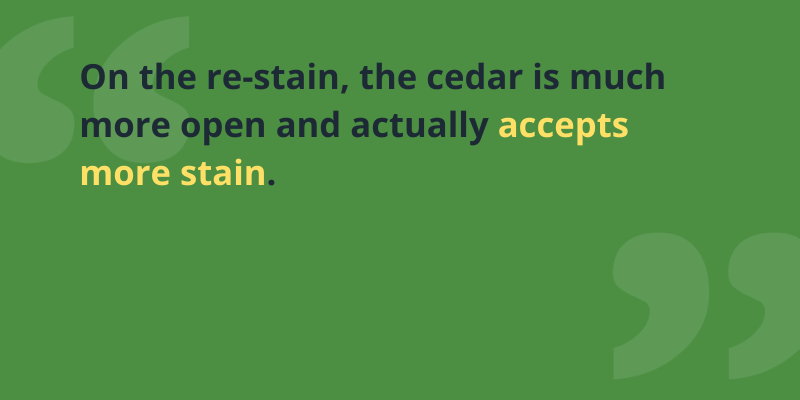 Can I change the color of my pergola?
Are you considering changing the color of your pergola? It is possible to change the stain color after a few years, but the original color may still share some of its character. For example, you can go from a rustic red to a walnut color, but the pergola will still have some of the beautiful red tint, even as it gets darker with the walnut stain.
It's important to note that you can't go lighter with stain colors, only darker. You do have a variety of color choices though, including classic walnut, espresso bean, and classic red cedar.
Simple steps for maintaining your pergola
Keeping your pergola looking great is as simple as washing, staining, and trimming.
1. Rinse the pergola with a hose
No matter your pergola's material, it's important to hose it down before staining so you achieve a smooth finish. We do not recommend using a pressure washer because it can damage the soft wood fibers and may streak the wood.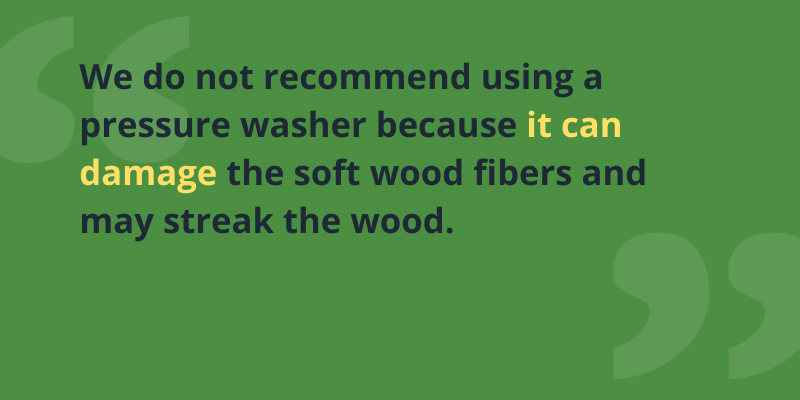 2. Clean any mildew and stains
Your pergola lives outside in the Oklahoma humidity, so you may need to remove mildew or other stains from it periodically. After hosing off the pergola, mix one cup of bleach with one gallon of water and use a cloth or soft-bristled brush to gently work the mixture into stains. You can also use a general-purpose cleaner.
Once you've removed the mildew, follow up with a mixture of soapy water, and then rinse thoroughly.
Trying to clean a hard to reach spot? Use a toothbrush to get into the nooks and crannies!
3. Touch up any damages and perform minor repairs
Oklahoma sees a lot of wind, rain, and sunlight, so even with the best materials, your pergola may need light maintenance after a couple of decades. If you do notice any new chips or large cracks, you may need to fill them with a flexible wood filler that is colored to match your stain.
It is also important to regularly inspect your fasteners. Green Okie uses triple-ceramic coated fasteners, so they should never rust, but check to be sure that they are still tightly fastened.
4. Trim vines and foliage
Many people have vines (creepers) that grow along their pergolas. A touch of live foliage can help bring your pergola to life, but it's important to remember that the vines can thicken and add weight to the pergola as well. Keeping your foliage trimmed will help bring out the beauty of your pergola and prevent damage from unnecessary weight.
5. Stain
Other than lightly cleaning your pergola, you don't have to take any additional steps to prep the wood for stain. Every few years, as your wood seems to need it, add a fresh coat of our oil-based stain after your regular cleaning.
If you'd rather kick back in the shade with a frosty beverage, give us a call and let us do your pergola maintenance instead.