Fireplaces and fire pits add warmth, character, and aesthetic appeal to an outdoor space. You can probably already picture yourself snuggled up beside a fireplace with your loved ones on a chilly Christmas Eve, or gathered around a fire pit on a clear summer night swapping stories with friends.
It can be difficult to choose between the two because both are attractive options that will undoubtedly create a cozy atmosphere for spending time with friends and family. However, there are some distinct differences between the two that can make your decision much easier.
If you're having trouble deciding between an outdoor fireplace or a fire pit, read on to learn the key differences.

Structural differences
A couple of ways outdoor fireplaces and fire pits differ structurally are their location and design.
Some fireplace designs can be freestanding, but in most cases, we pair a fireplace with a privacy wall or patio covering. On the other hand, fire pits are usually structurally independent, so we can build them almost anywhere in your yard.
If you already have a pergola or similar structure, a fireplace is a great choice for adding character and getting more use out of your patio during colder seasons. Or, if your patio is uncovered, you might prefer a freestanding fire pit so that you get many of the same benefits as a fireplace without adding a wall or covering.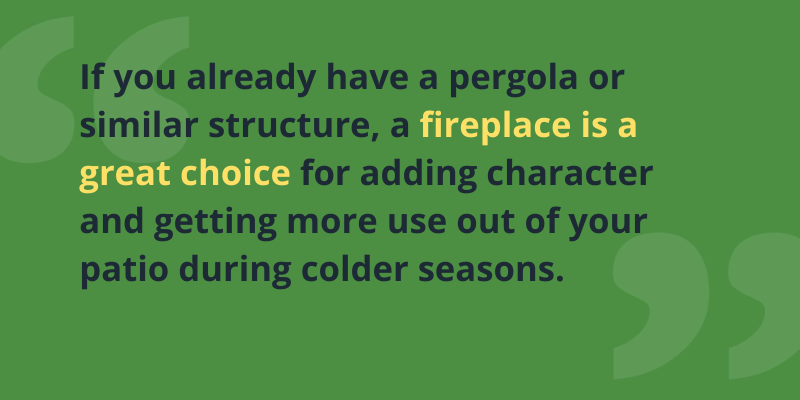 Another structural difference to think about is each addition's customizable features. Due to their size and shape, fireplaces come with more room for personalization, such as custom mantles, hearths, TV-mounts, and built-in firewood storage. A fire pits' customization options are generally limited to shape and seating.
Functional Differences
Both fire pits and fireplaces are great at performing their most basic function — producing and containing fire — but their most important function is creating a welcoming space for social interaction. To maximize the potential of your new installation, consider how you see yourself using the space most often.
When it comes to accommodating large groups of people, a fire pit is the best option because your guests can sit around its entire perimeter. You can utilize every side of the fire for warming hands and roasting marshmallows while chatting with the person across from you.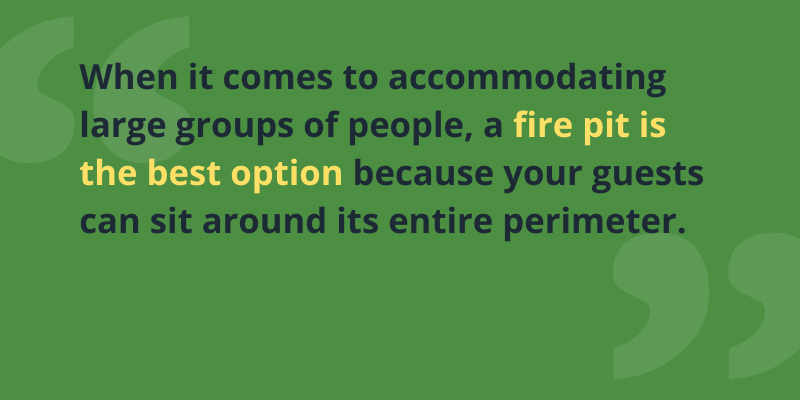 For more intimate gatherings, a fireplace makes a fantastic focal point. Arrange some comfortable seating around the hearth and enjoy its warmth while relaxing with friends, or set up a table on your patio and have a family game night in the glow of the flames. After all, what better way to enhance quality time and good conversation than the sound of a crackling fire?
Financial Differences
Fire pits and fireplaces both have the option of being either gas or wood-burning. Each of these fuel options comes with its own set of pros and cons, regardless of which installation you choose.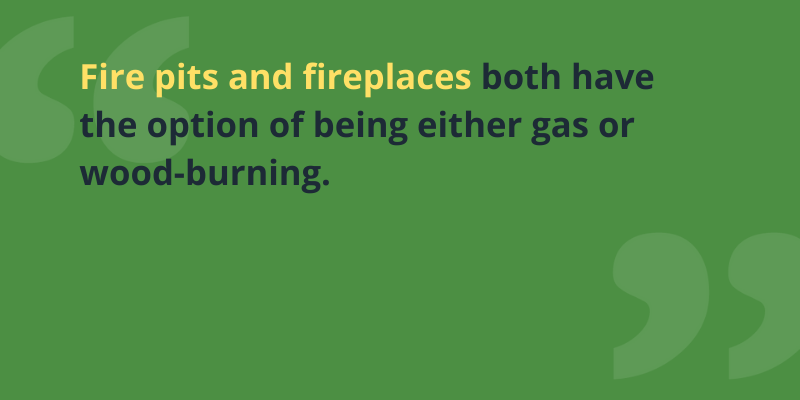 For example, wood-burning fireplaces and fire pits are cheaper to install, but their lifetime cost can be higher. Consider the time and monetary expenses of building and stoking the fire, cleaning up the ashes, and the cost of firewood over the course of several years.
Gas, on the other hand, costs a little more upfront to install, but requires less maintenance and has a lower fuel cost. Plus, you're much more likely to use your fire pit or fireplace when you can create flames with just the press of a button.
In addition to fuel cost differences, the cost of building a fire pit is usually about a third the price of building a fireplace. If you don't already have a support structure for an outdoor fireplace and decide to add one, this can make the total installation cost skyrocket.
Ultimately, the value of either addition comes down to what matters most to you and what you think will make the best addition to your home.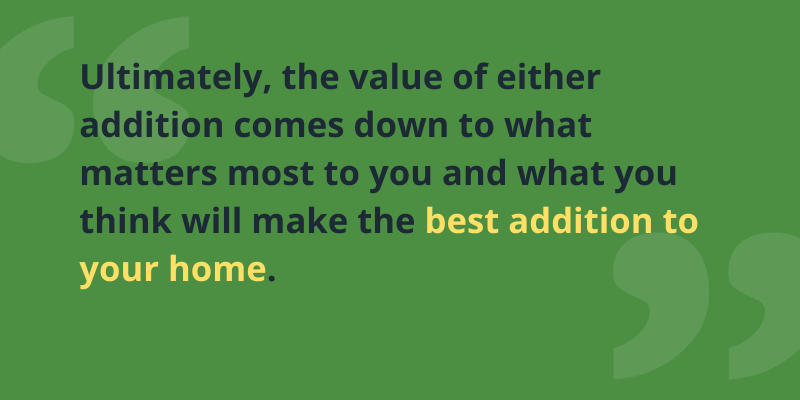 Still not sure which is the best option for you?
Adding a new feature to your patio that requires major construction is a big commitment, which is why we encourage taking your time and coming up with a detailed plan. The best way to avoid costly changes mid-project or unexpected design flaws is to consult with an expert before beginning any work.
Green Okie has experienced designers available for a free initial consultation to help you determine which option will best suit your needs. Together, you and one of our experts can discuss ideas, costs, and timelines to create a plan that makes you feel confident in the installation of your new fire pit or fireplace.
Still need help envisioning your new patio addition? Browse our gallery for design inspiration!