When you're feeling cooped up, getting some fresh air can be just the thing you need to save your sanity, especially these days. When you look at your yard, do you see an inviting place to kick back and relax? Somewhere for your kids to play and burn some energy? Or is your backyard missing something?
Sometimes, a simple backyard makeover can transform your life. No matter your age, sunshine and fresh air support a healthy body, reduce stress, and can help you rest better each night. Whether you're looking for an outdoor space overhaul or a simple update, read on for our five backyard must-haves.

1.  Comfortable seating
Whether you're hosting a crowd, watching your kids or grandkids play, or just reading a book in solitude, having plenty of comfortable seating is essential. Without it, your family and friends will likely stay indoors. However, the right set of outdoor furniture will beckon your group outside.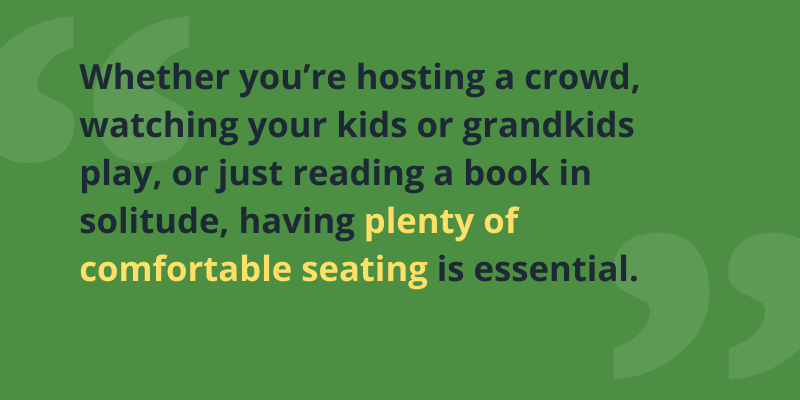 Creating an outdoor space to gather and relax with your family turns your yard into an extension of your home. Enjoy meals, do homework, or play games in the fresh air without worrying that someone will have to sit in the grass.
Upgrading your seating doesn't have to break the bank. If you don't want to splurge on an expensive outdoor set, choose one that's comfortable for your budget and spice it up with accent pillows. They'll transform an average outdoor set into one that's cozy and chic.
2.  A pergola
Basking in the sunshine is one of the perks of being outdoors, but too much direct light can make your outdoor space too hot. If you want the perfect amount of shade so you can enjoy your patio all day long, consider a pergola. Our design experts will tailor your roof design to let in the ideal amount of sunshine.
If you want to create a deluxe space, you can add an outdoor kitchen under your pergola too. Want to be able to watch the game while you're grilling dinner? We can add a TV box so that you never miss a play.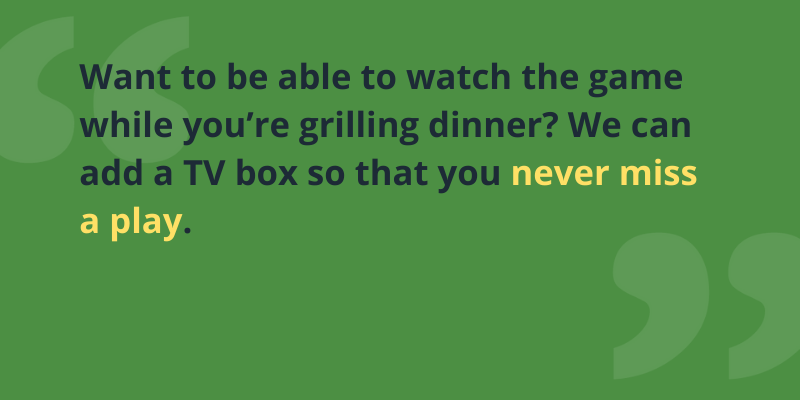 Though a pergola is beautiful during the daytime, it may be even better at night. When you string the roof with lights, it creates an incredibly ambient space to enjoy with your friends. It also makes a great place for a romantic at-home date night.
No matter how large or small your space is, Green Okie can create a custom pergola that's perfect for it. Bonus: it can add value to your home if you think you may want to sell in the future.
3.  Fire pits and fireplaces
There's something about the crackle of a fire that draws people to gather around it. Adding a fire pit or fireplace creates an ambient focal point in your outdoor space and can transform it from average to magical.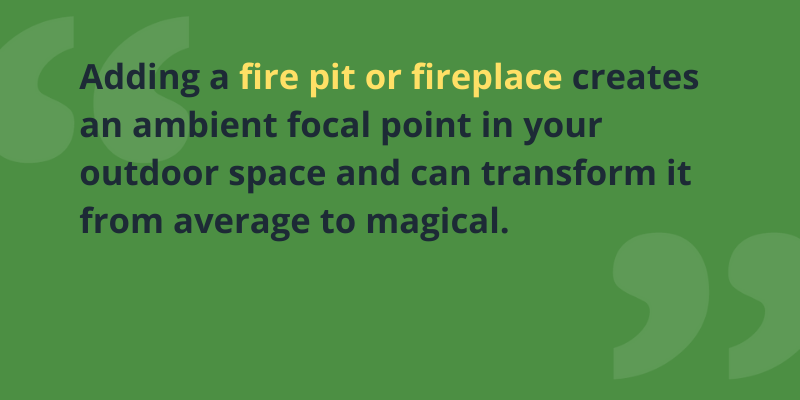 Creating lifelong memories for your kids doesn't have to be expensive! Plan a camping staycation in the backyard and stock up on s'more ingredients. Gather your family around the fire and roast marshmallows hunkering down in the tent for the night. Perhaps the true beauty of a fire feature is that it gives you an affordable way to enjoy the outdoors year-round.
Not sure if you should choose a fireplace or a fire pit? Outdoor fireplaces are a beautiful compliment to a pergola, and fire pits are perfect in a large yard. Both are available in either wood-burning or gas.
4.  An outdoor kitchen
Why confine your dining to the indoors? If you have a grill master in the family, then an outdoor kitchen might be the perfect addition to your space. If your backyard oasis includes cozy seating, you can create a friction-free outdoor experience for the entire family so that it's easier to spend quality time together.
There's an infinite number of design options, ranging from just the essentials to all of the bells and whistles. At its heart, an outdoor kitchen just needs a countertop and a grill. However, you can get very creative by adding custom storage for your propane tanks, a meat smoker, a wood-burning pizza oven, or even bar taps. Green Okie can customize the design to fit appliances or anything else you can dream up so that you'll always have everything you need at your fingertips.
5.  Outdoor storage
It would be a shame to clutter your beautiful outdoor space with pool toys, basketballs, gardening equipment, or anything else, so storage is a real lifesaver.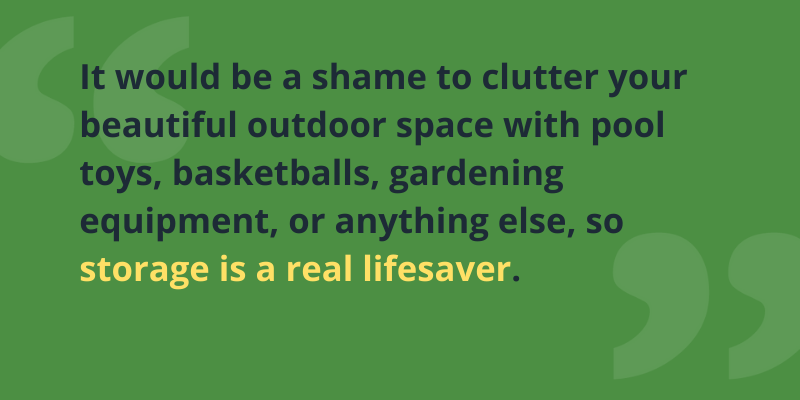 A shed is a great option for large items or those that you don't use frequently, but custom benches with hidden storage are a great way to keep your most-used items close at hand. Also, they're an efficient way to use your space because they double as seating when you have a crowd over.
Create your dream backyard
Your outdoor space should be a sanctuary for you and your loved ones. With Green Okie, all it takes is one picture and two measurements to turn your dream backyard into a reality. We can talk in person, over the phone, or by video and get you a quote for your project. No matter the timeline of your project, get in touch. We can start building your design whether you're ready to build this summer, or in five years.