A poorly designed outdoor kitchen can be cumbersome to use, resulting in a beautiful area that ends up collecting dust. However, a well-designed outdoor kitchen will become the heart of your outdoor space. It's essential to consider the pragmatic aspects of designing an outdoor kitchen, as well as the social uses of the space.
In this article, we're sharing some of our top design tips for outdoor kitchens so that your space is both beautiful and functional.

Where should you place your outdoor kitchen?
Homeowners commonly construct their outdoor kitchens in one of two spaces: directly beside their homes or in a pavilion set away from the house. Both locations have distinct advantages and disadvantages, so which site is best?
The answer largely depends upon how you see yourself using your entire outdoor space. Do you want the kitchen to be conveniently located outside your back door? Or would you rather build a special kitchen pavilion beside your pool because that's where your kids, friends, and family gather?
Beside the house
In many cases, constructing an outdoor kitchen near a house is more affordable than building a separate pavilion. The outer wall of the house comprises one side of the kitchen, which is a significant cost saving. The existing wall also provides valuable shelter from wind, precipitation, sunlight, and extreme temperatures to help your outdoor appliances last longer. Running utilities from the house to the kitchen directly beside it is also much more affordable than running them to the middle of the yard.
When the outdoor kitchen is near the indoor kitchen, you can use the two spaces fluidly. Many homeowners prefer to use the indoor kitchen rather than add costly upgrades, such as a separate refrigerator and sink.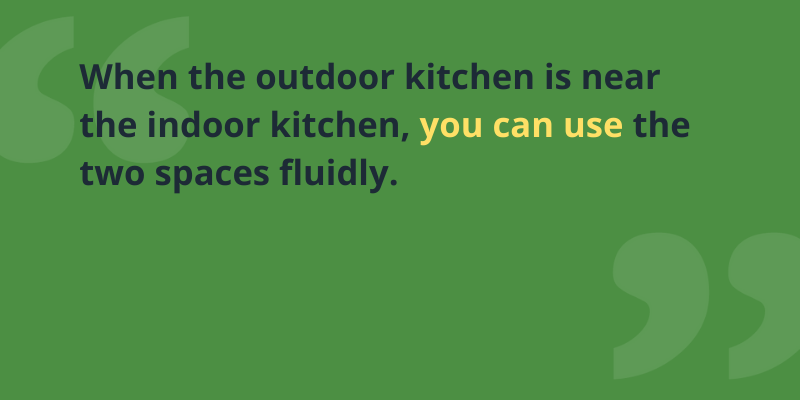 One challenge of placing an outdoor kitchen beside a house is managing smoke from the grill. When possible, install the grill at least ten feet from any windows or doors and downwind from the outdoor dining area. Another trick is to place the grill at the outer edge of the kitchen rather than in the middle. By doing so, smoke vents outside instead of getting trapped under the pergola roof.
Freestanding kitchen pavilion
A well-designed kitchen pavilion will become the focal point of your outdoor space. Imagine your family and friends belly up to the bar while you cook up dinner. Can you hear your kids splashing in the pool with their friends, or laughing around the fire pit? A freestanding kitchen pavilion will turn your backyard into a magnet and will be an endless source of memories.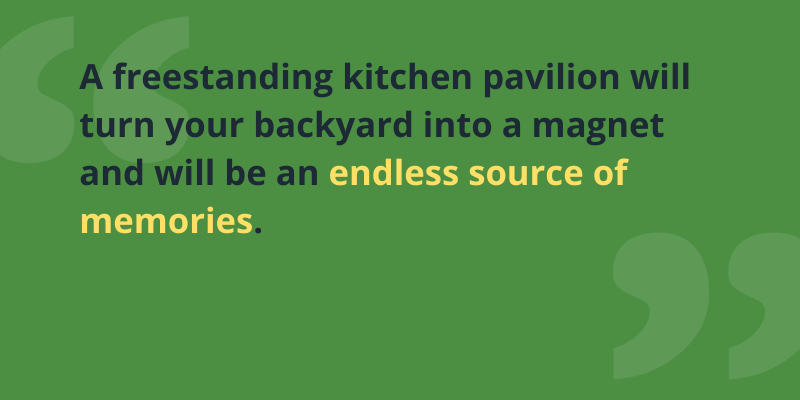 The cost of a freestanding kitchen pavilion is often higher than building beside the house because it needs additional components. For example, you may want to include a sink so that you don't have to take the long walk to your indoor kitchen each time you want to wash your hands. You may even include a refrigerator or cold storage drawers, plus additional storage so that your pavilion has its own set of cooking utensils, flatware, and dinnerware. Your outdoor kitchen can be a self-sufficient space so that you never have to step away from the action.
Outdoor kitchen layout considerations
No matter where you decide to place your outdoor kitchen, you should keep the kitchen triangle in mind. Imagine that your refrigerator, grill, and sink are each a point of the triangle. No one point should be more than ten feet from another, and the path from one point to another should be unobstructed. For example, placing a large island between the grill and the refrigerator breaks the triangle and compromises the functionality of the space. The easier it is to prepare a meal in your kitchen, the more likely you are to use it regularly.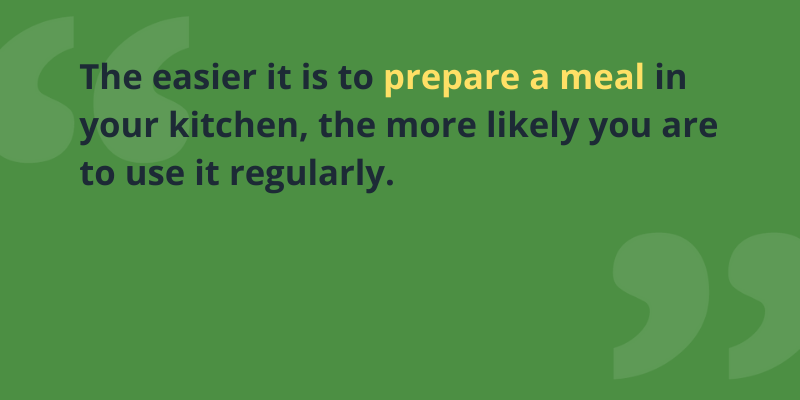 Some other thoughtful considerations that will make your kitchen more enjoyable are to add ample overhead lighting and to orient it toward a beautiful view on your property. You may also want to place it slightly away from your children's play areas to avoid rogue soccer balls landing in your kitchen.
Consult an outdoor kitchen pro
When you're excited about a home improvement project, it can be really difficult to put off the start date until you've created a thorough plan. However, making design changes after you've begun work will make the cost of the project skyrocket. When you take the time upfront to thoroughly explore design elements and plan out your perfect outdoor kitchen, you'll save money and time.
Our outdoor experts have worked with countless homeowners to bring their outdoor kitchen dreams to life. If you want to brainstorm with one of our outdoor experts, get in touch for a free, no commitment design consultation.