Even though your backyard isn't technically part of your house, there are still several ways you can make the most of it every day. It can be especially easy to forget about your backyard during the winter months, but don't worry — there are plenty of ways to spice up your space so it can be a daily source of joy. Here are a few ways you can get the most out of your yard all year long.
Summertime
Of course, it's pretty easy to get outside during the summer months. During warm days, your backyard becomes the hub of your house, especially if it's a place where you like to spend time. That said, it's still important to stay cool and comfortable on the warmest days of the year. Make your yard a place where you can experience summer without sweltering in the heat!
Put in a Pool
Swimming pools are one of the more controversial backyard additions out there. The jury's out on whether they add anything to the resale value of your home, and they certainly require lots of care and maintenance. You should weigh all the pros and cons of installing a swimming pool before you take the plunge.
However, the daily value of a swimming pool can be significant. A pool provides a source of exercise and stress relief. If you have kids, a pool is a surefire source of entertainment, summer after summer. In fact, a pool can be great for the whole family, including elderly or movement-impaired friends and relatives. Pools are one of the most accessible additions you can make to your backyard.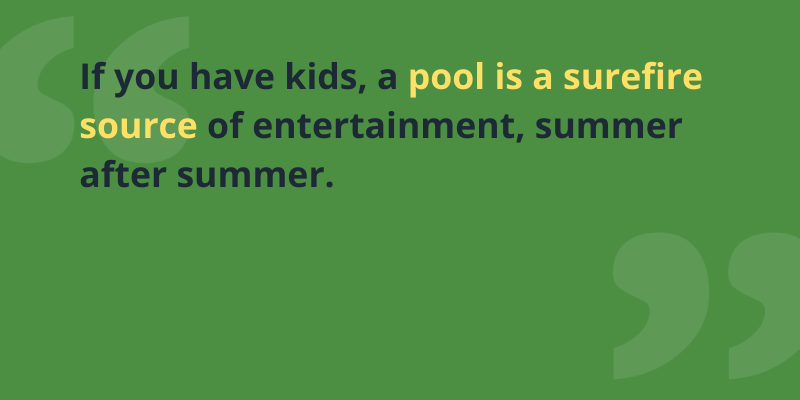 If you're looking to spend time in your backyard every day during the summer, consider installing a pool. Keep in mind that pools are often best suited to areas with warmer climates because they won't require as much seasonal maintenance. Also consider the cost and how much your family will actually use the pool. If you plan to use it a lot, it can make for a great addition to your yard.
Cover Up
Backyards sure are great during the summer, but if they don't have enough coverage, they can heat up pretty quickly. If your yard doesn't get a lot of natural shade, consider installing a pergola or a pavilion — or, at the very least, purchase a good quality umbrella. You'll be more likely to use your yard every day if you know it will be comfortable.
As an added bonus, pergolas and pavilions act as attractive centerpieces to enhance the look of your yard. They provide valuable protection for outdoor kitchens, grills, fireplaces, and more. They can also house plants or provide shade beside your pool. A pergola is one of the most versatile, lasting additions that you can make to your yard, especially with a UV-blocking polycarbonate roof to keep you shaded and cool.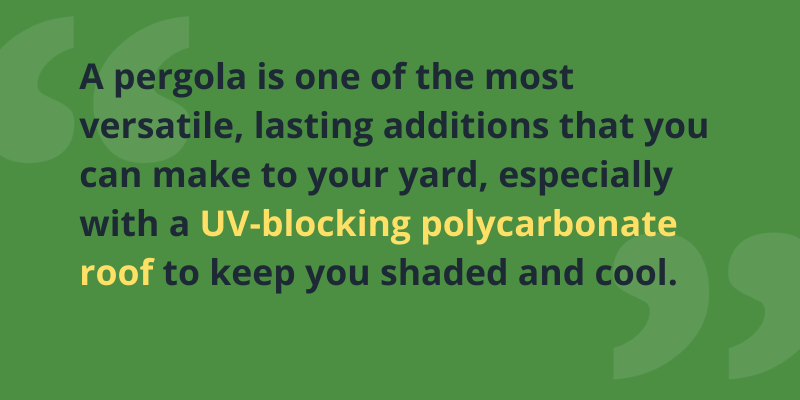 Develop a Green Thumb
A garden can add daily and long-term value to your outdoor space. Gardening supports both mental and physical health. It's a source of activity as well as healthy foods. Because gardens need tending almost every day, you'll always have a reason to go out and get some fresh air.
If you're interested in gardening but you want a low-maintenance option, consider planting perennial flowers. Not everyone is ready to start growing their own vegetables, and taking care of perennial flowers will get you up and moving without requiring too much maintenance.
Gardening can also be an expensive hobby, so for a low-cost option, make sure to purchase flower or vegetable seed packets instead of mature plants. Growing your plants from a seed takes more time, but it can be especially satisfying, and it will save you some money.
Install an Outdoor Kitchen
Next to putting in a pool, this is probably one of the more dramatic ideas on our list. However, taking your cooking outside can have plenty of benefits during the summer months. Outdoor kitchens don't require all the bells and whistles of their indoor counterparts. Install a grill, a countertop, and a small fridge, and you already have the beginnings of a perfect outdoor cooking area. Gather your friends together for a summer grilling session, or simply enjoy some food with your closest loved ones. Cooking and eating outside will help you make the most of each summer day.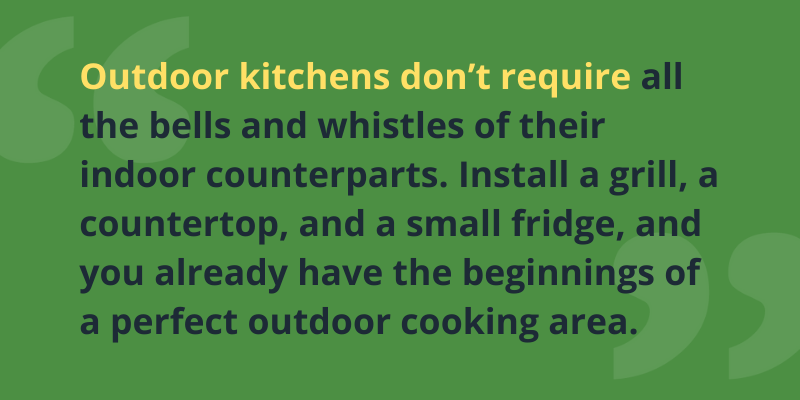 Wintertime
Using your backyard in the winter is a bit less intuitive, but there are still plenty of ways to enjoy the outdoors each day. The goal is to invite and maintain warmth, increase comfort, and add utility for year-round backyard enjoyment.
Create an Indoor-Outdoor Space
The keystone of a winter-friendly backyard is an indoor-outdoor space. Indoor-outdoor decks and patios are becoming increasingly popular as homeowners begin to invite nature into their houses. Enclosed pergolas, patios, and decks all provide an insulated space where you can enjoy your yard from the comfort of the indoors. Add heating and insulated flooring for maximum benefits.
Install an Outdoor Fireplace or Fire Pit
To further warm your indoor-outdoor space, consider adding a fireplace or a fire pit. A fireplace or gas fire pit can be part of an enclosed wintertime pergola. However, wood-burning fire pits will need to be exposed to open air, so they shouldn't be placed under a pergola or other structure. Imagine sitting around the fire with your loved ones after a Christmas feast. Sound like something out of a Hallmark movie? Well, it could be in your very own backyard!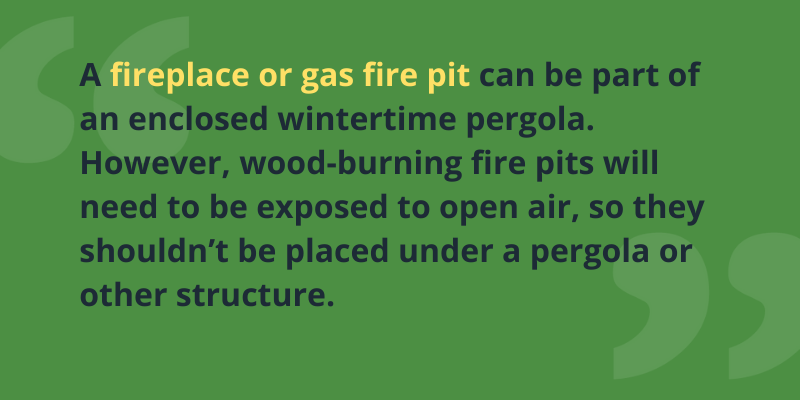 If you don't have the budget for a large fireplace or fire pit, consider investing in a space heater. These are mobile and great for heating up small seating areas outside.
Illuminate your Space
One of the drawbacks of going outside in the winter is the short days and lack of light. Solve this problem and transform your space by brightening it up. Lanterns and string lights are favorites among homeowners for their warmth and coziness. Also consider adding dimmable or smart lights that you can adjust for the perfect ambiance during those dark winter evenings.
Switch Out Your Furniture
If you plan to use your backyard in the winter, you'll have different furniture needs than you do in the summer. Wintertime furniture should be soft, warm, and complete with pillows and blankets for maximum comfort. Choose furniture that stores easily or can be modified to fit your summer and winter modes.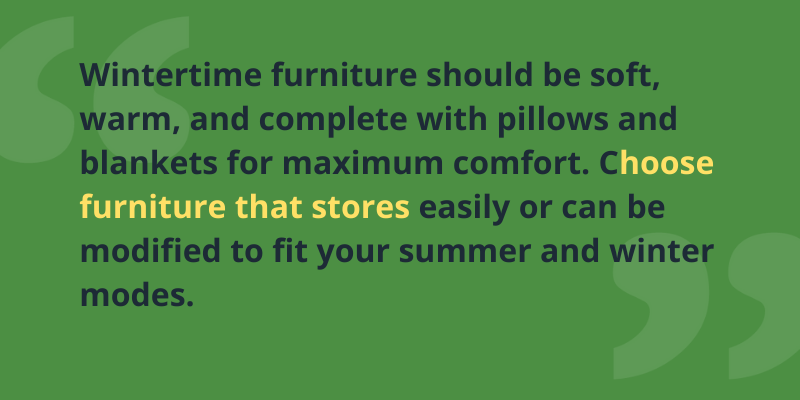 Enjoy Your Yard Year-Round
Every backyard has the potential to be a gathering space year-round. Download our free eBook for more unique, affordable ways to use your space year-round.
","https://f.hubspotusercontent40.net/hubfs/6899848/Article%20Featured%20Images/8%20Ways%20to%20Enjoy%20Your%20Backyard%20Every%20Day%20%E2%80%94%20Rain%20or%20Shine.png","Kevin Sutter",""