There's something to be said for putting something together with your own two hands. Do-it-yourself projects can be enjoyable and sometimes give you a greater appreciation for the final product — that is, assuming the final product is a success.
The reality is, DIY projects don't always go according to plan or turn out the way you want them to.
In some cases, this might not be a big deal, like if you were to spend an hour making cookies from scratch and later realize you forgot to add the sugar. In that scenario, you're only out an hour of your time and a few dollars.
When it comes to a larger investment such as a pergola, however, the stakes are a little higher. You may end up spending a significant amount of money and time painstakingly piecing your pergola together, only to find out that it's incredibly wobbly or doesn't provide enough shade.
While there's value in building something yourself, there are also a lot of factors you miss out on when you take the DIY route.
A few of these include…

1. Structural integrity
If you're going to install a pergola in your backyard, you want your family to be able to use it as often and for as many years as possible.
One major flaw of DIY pergola kits from big box stores is that their average lifespan is one fifth that of a professionally built pergola (sometimes less!). Even in ideal conditions, that means that you'll likely be replacing your DIY pergola once every two to four years. If you live in an area with heavy wind, rain, or snow, your pergola may not even last that long.
Custom-made pergolas built with quality materials by expert craftsmen have lifespans of twenty years or more. While you might save money upfront when you purchase a DIY pergola kit from a big box store, the cost to replace it every couple of years will quickly add up.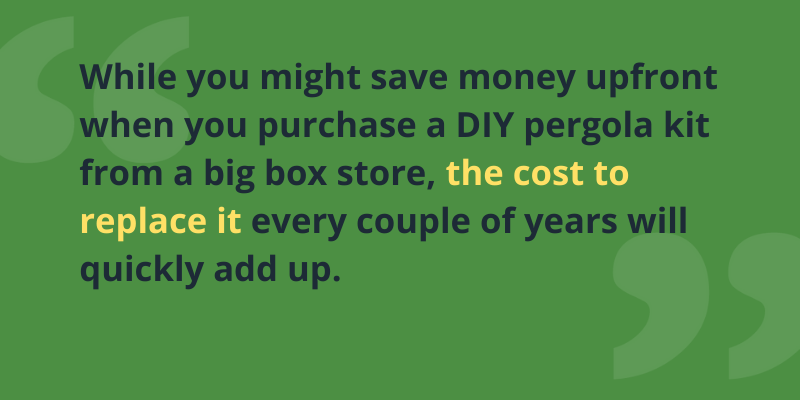 Investing in quality from the beginning sets you up for decades of enjoyment beneath the same beautifully constructed pergola you started with.
2. Time
The time it takes to piece together a pergola kit varies depending on the size and design, but a reasonable estimate would be about two days if you're doing it alone. That doesn't include the many hiccups you're bound to encounter amid the many pages and complicated illustrations of the assembly guide.
Pergolas contain an exceptional number of pieces, mostly due to the many individual beams composing their lattice roofs. And, depending on what material your pergola kit is made out of, these pieces are often very heavy. One crossbeam of a vinyl or aluminum pergola kit can weigh between 50 to 85 pounds, even heavier if you're building a wooden pergola.
Hiring an experienced contractor to build your pergola (even one with added customizations) in many cases takes half the amount of time (or less!) it takes to build a kit yourself. That means less stress and a faster turnaround so you and your family can start enjoying your new pergola as quickly as possible.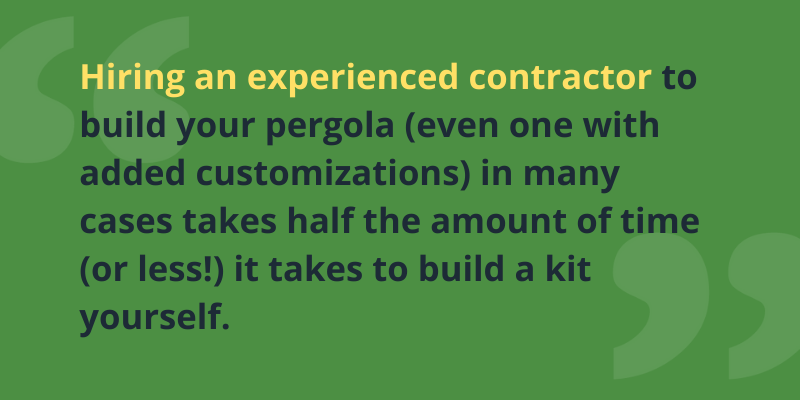 3. Customizability
Another disadvantage to DIY kits is that they limit you to a bare-bones design. When you buy a do-it-yourself kit, you're left without the option of including features such as privacy walls or ceiling fan mounts.
Because you have limited options between a few different standard kit dimensions, you'll want to carefully assess the size and shape of the area you want to cover. Since pergola kits aren't customizable, many homeowners find it difficult to find a kit that fits their desired space just right.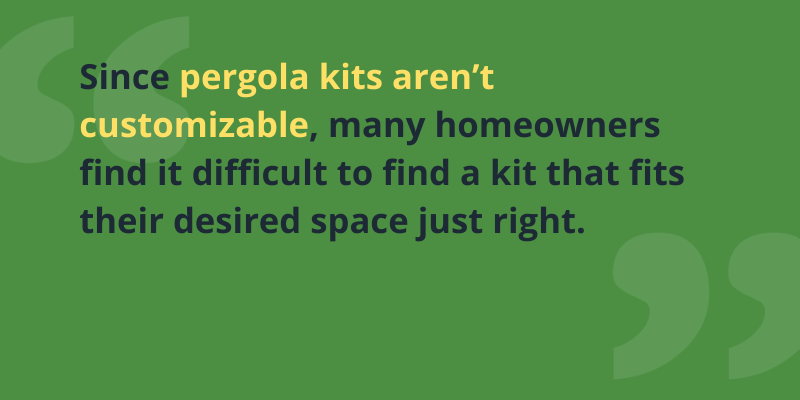 Outdoor spaces with organically shaped pools or patios with rounded edges or oblong shapes are especially difficult to cover with a cookie-cutter pergola kit. For special cases like this, a custom pergola is the way to go.
Custom pergolas will fit nearly any patio shape, including polygons or curved edges. You'll never have to worry about leaving certain areas of your patio uncovered or awkwardly angling your pergola to make it fit!
4. Expertise
When assembling a pergola kit, there's the potential for bumps in the road that can extend your project's timeline. Dissecting pages worth of instructions and squinting at tiny diagrams to decipher which screws are used where can confuse any novice pergola builder.
There's also a good chance you could experience an issue that isn't user error.
Some common problems are production-related mistakes such as missing hardware or ill-fitting components. If the manufacturer supplies replacement pieces, this can add days or weeks to your project while you wait for the new materials to come in. If they don't supply replacements, then who knows how long it'll take you to find the right materials on your own.
Hiring a professional eliminates the stress of sorting out materials and waiting on hold each time you call customer support with a question. Instead, you have experts right outside your backdoor to oversee the project from start to finish and answer your questions face-to-face.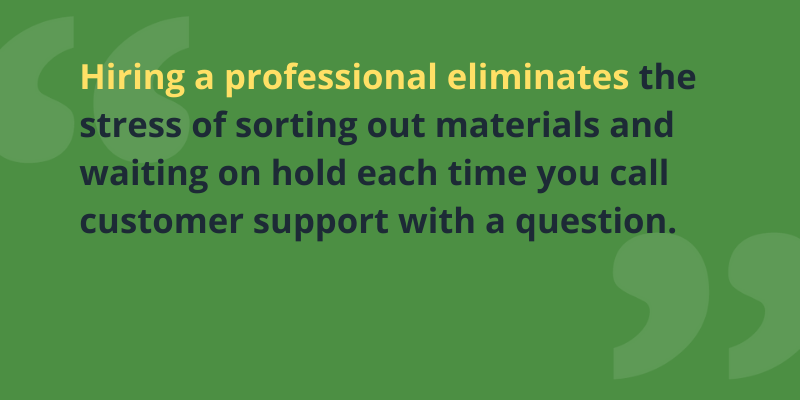 5. A solid plan
There's no substitute for having a solid plan so that you get absolutely everything you want out of your pergola. Researching a specific pergola kit and browsing its website may offer some helpful planning tips, but ultimately the information will be generalized to fit a wide audience.
You should consider a variety of factors that are unique to your home before purchasing your new outdoor addition. For example, climate, the direction your backyard faces, and what purpose your pergola will serve all influence the size, materials, and design that will work best for you.
You could spend hours researching on forums and various pergola websites to get answers, but why not just speak to an expert in person?
At Green Okie, we offer free, no-commitment consultations with one of our design experts at your home, over the phone, or via email. We'll examine your backyard together and work with you to come up with the perfect plan to achieve the outdoor oasis you've been dreaming of.