Your backyard is a special place for you and your family to spend quality time together and enjoy the outdoors. It's where your family spends hours in the pool on a hot summer day, or where you and your spouse enjoy a quiet evening together beneath the stars.
You may already love your backyard, but simply want to give it a little more pizazz. Or maybe you rarely use the space, and you're looking for some ideas to help your family spend more time outside.
Either way, you've come to the right place. Here are three ideas to help your backyard reach its full potential so you can get the most out of your outdoor space.

1. Plan for the future
It's easy to focus on short-term rather than long-term goals for your backyard, but this way of thinking can lead to problems down the road. To get the most out of your yard, you want to make sure that each change and addition is something that will be both structurally sound and functional for years to come.
Pergolas are a great example of an addition that's more beneficial to you and your family when you plan for the long-term.
For example, someone who's only focused on upfront cost might be more inclined to purchase a DIY pergola kit from a big box store instead of spending the extra money to buy a more durable DIY kit or have a custom pergola professionally installed.
While you may save some money up front by purchasing the average DIY kit, you end up sacrificing quality and longevity. A typical big box store build-it-yourself pergola kit will only last a few years, but potentially even less if you live in an area that experiences harsh weather.
Meanwhile, if you choose a custom, professionally-constructed pergola, the end product will last at least five times longer than a do-it-yourself pergola. If you love doing DIY projects, we recommend purchasing one of our DIY kits that features the same durable materials that we use in our custom projects.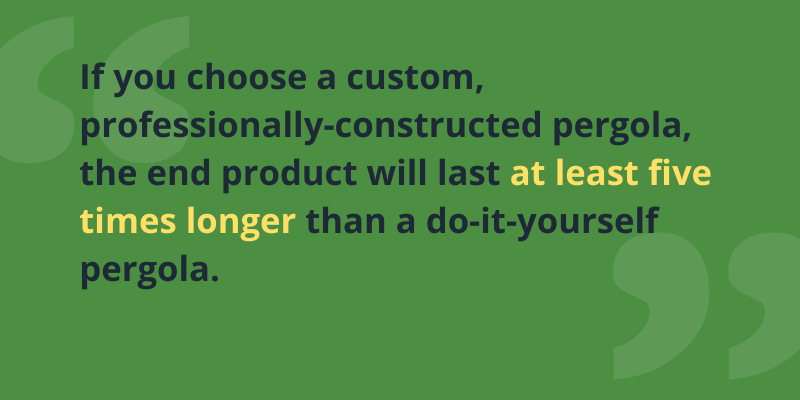 The lifespan of a pergola depends on a number of factors, including material type and quality, construction skill, the types of fasteners used, and more. By choosing high-quality materials from the beginning, you're much more likely to avoid costly replacements later on while also saving yourself the time and hassle of trying to replace your pergola ever few summers.
Another way to avoid making more changes to your yard as time goes by is to consider what purpose your backyard will serve over the span of five to ten years.
Do you see yourself hosting your future children or grandchildren's birthday parties on your back patio? Would you like to preserve as much grass as possible to allow space for playing sports and other outdoor activities?
If your goal is to host parties or large family gatherings, you may want to size your patio extension or pergola accordingly during initial construction. This will ensure you don't invest in a patio covering or other addition only to find out that it's short on space and doesn't serve your desired purpose.
Likewise, if preserving grass for your kids to play on as they get older is a priority, you don't want to plan too big for a deck or patio.
2. Maximize space and usability
A great way to get more out of your backyard is to add features that maximize the usable space and amount of time you can spend outside.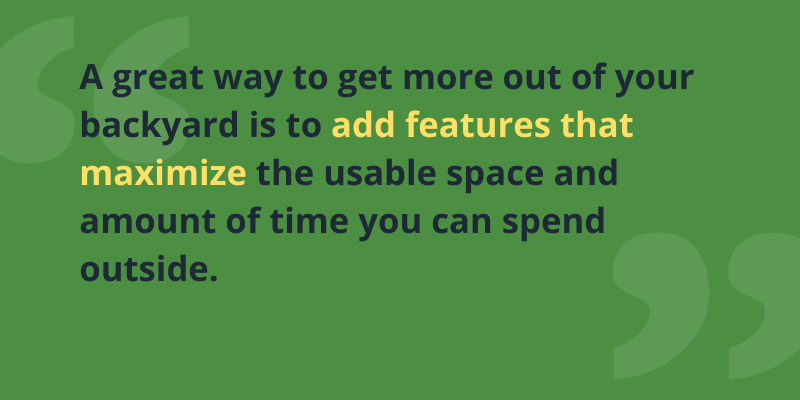 For example, adding a deck beside your pool where you can set up lounge chairs and drink tables makes the space more useful. A poolside deck creates the perfect spot to relax and sip a cold drink while watching your kids swim, or to simply read a book and enjoy some sun.
When it comes to maximizing how often you can spend time outside, one of the best ways is to add a cover to your patio. A patio extension is a great covering option because it features a completely solid roof so you can enjoy your patio rain or shine. You can also install a ceiling fan for added comfort on warmer days.
Or, since patio extensions are built directly onto your home, you can even install a heating and cooling system that's connected to your house. You'll never have to worry about cabin fever when you can enjoy the fresh air and the sounds of nature from your patio all year long.
3. Choose multi-functional pieces
If you have a smaller yard with limited space for adding new additions, you want to use what space you do have wisely. You may need to incorporate features that can serve multiple purposes to give your backyard an added touch of character and function.
If you have a pool that takes up most of your backyard and doesn't leave much room for a deck or large seating area, an alternative would be to add custom benches with hidden storage.
Wooden storage benches, with the proper finish, are the perfect waterproof place to store dry towels or hide pool toys that can clutter up your backyard. Plus, rustic cedar benches are a far more attractive storage method than plastic tubs or a net full of toys hanging on your backyard fence.
Another backyard addition that can serve several different purposes is a pergola. Pergolas are perfect for anyone who would enjoy more plant life in their backyard but lack the space for a garden or much landscaping.
Pergolas often feature a lattice roof with gaps between each crossbeam, which is ideal for growing vines, roses, or other climbing plants. They're a great way to add life and vibrancy to a small outdoor space. You can grow a beautiful cover of greenery around your pergola, while also creating a well-shaded area for outdoor seating and dining.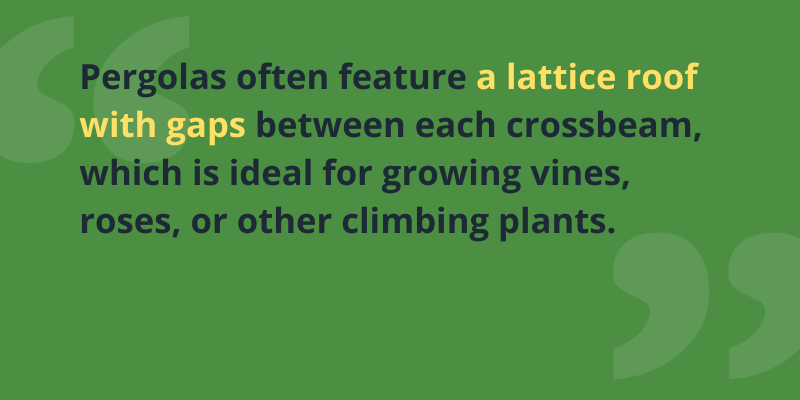 Ask an expert for advice
Everyone's home and backyard are different, which is why it's a good idea to have a professional assess your outdoor space first-hand and help determine the best options for you.
At Green Okie, we want our customers to feel confident in the construction of their outdoor addition well before we draw up a contract. That's why we offer no-commitment, no-cost consultations with our design experts at your home, over the phone, or via email.
We'll help you think through how you see your family using your backyard over the next few years, figure out the most efficient use of your backyard's space, and ultimately help bring your vision to life.