1. Contact us by calling 405-708-3509 OKC or Tulsa 918-760-4725 or
2. Our knowledgeable customer representative will then contact you to setup a free consultation visit at your home.
3. During your at-home consultation, our representative will find out from you what your goals and concerns may be. They can then provide ideas and costs associated with each possible design. Financing options will be presented through Synchrony bank 0% to 9.99% depending on term.
4. Your proposal will be emailed to you promptly (same day in most cases) for your consideration along with Legal terms and conditions, FAQ's, Workman's comp Insurance, General liability, and warranty info. **you can review sign and pay online**.
5. If you are ready to go but still unsure of exactly what you want to build you can sign a "commitment Proposal" along with a credit card payment of $500 dollars which will secure your scheduled date of construction.
6. Next, one of our experienced design specialists will visit your home and determine exactly where the post or legs will be placed, how tall it should be and how it interfaces to your house and gutter for the best possible design and drainage. They will draw up a scale drawing for the construction process to begin.
7. You'll be able to track the entire production process via our cloud-based job management software. It will allow you to see and sign proposals, change orders, scheduling and pictures of your project throughout the process.
8. Our shop personnel will then order, cutout and stain your project. It will be moved to our holding area awaiting the onsite build process.
9. Our experienced field construction crew will usually complete your project in one or two days.
10. Enjoy your new outdoor space creating memories for years to come with family and friends!
Why does Green Okie use western red cedar?
One of the world's most durable and versatile woods, western red cedar is naturally resistant to moisture, decay and insect damage. This makes it an ideal choice to use outdoors, since the surface will be exposed year-round to extreme temperatures, sun and rain. In general, it lasts longer and requires much less maintenance. Visit cedar.org for more information.
Will my new pergola crack?
Because western red cedar is a natural product – not impervious to surface cracks, wane and checking – our staff has the experience to repair and remedy any concerns quickly.
What type of stain does Green Okie use?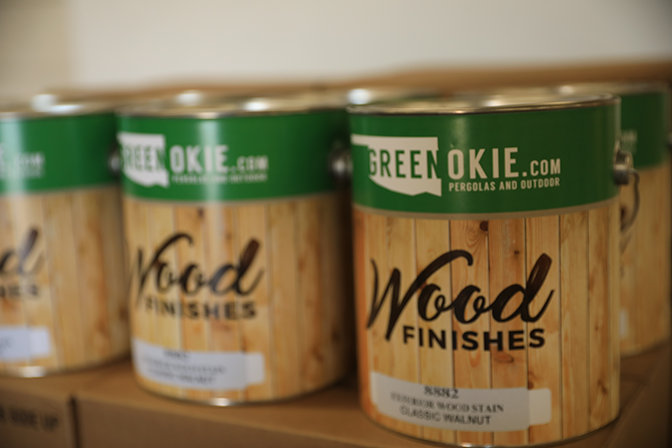 Green Okie working in conjunction with H-I-S paints and coatings has developed "Green Okie Wood Finishes" a premium oil-based wood stain. For more than 40 years, H-I-S Paint Company has been manufacturing paints and coatings in their Oklahoma City factories. Today H-I-S Paint ships coatings nationwide and internationally. https://www.hispaint.com/
You can now buy the same stain we use on our outdoor projects.  Always in stock at Green Okie in one gallon and five-gallon quantities, re-stain your Pergola, Fence, Deck or other projects.
Who does the electrical work? Do you have a licensed electrician?
We are not licensed to do electrical work, however, we will recommend a licensed electrician or you are free to choose your own. During assembly, we install LED lights to the pergola and the cedar platforms needed for ceiling fans, and then you will need to choose an electrician to finish the installation, including hanging your fan(s).
Does Green Okie provide 3D CAD (computer aided design)?
Yes. This amazing technology enables you to see your custom project in 3D before it begins. Available upon request. There will be a design fee.
How do you attach the legs of the pergola?
In most cases, when building on a patio or concrete, we drill holes in the concrete and install 5/8 all thread bolts using anchoring epoxy. We then attach a Simpson galvanized steel post anchor which elevates the leg off the ground for good drainage to ensure there are no cracks or holes that water can get into, freeze and cause cracking. In some cases, such as when building the pergola in the yard with no patio, we will need to dig and install concrete piers for the post anchor to attach to in order to support the weight. Regardless of the method we use to install the legs, there is a cedar boot or trim that covers all the hardware.
Do you use nails for construction?
No. We only use Big Timber ceramic-coated screws and fasteners (ISO 9002-certified). Also, unlike nails, our screws do not cause tannin bleed, which causes black streaks over time.
Do you attach anything to my house?
No. In most cases, nothing is attached or touches your house. The canopy or roof will go either over or under your eves. We always leave room to replace shingles or gutters in case of damage.
In some cases, we do utilize Skylift Roof Risers, which allow replacement of shingles. To learn more, visit our Skylift page.
Is there a warranty on my pergola?
Yes. Not only does Green Okie stand behind our projects with a one-year warranty, the products we use often have their own warranties. Suntuf polycarbonate roofing offers a 10-year hail damage warranty and the Wood Defender stain offers a two-year warranty.
Do I need a building permit?
Regulations vary as to the requirements for a pergola/pavilion depending on where you live. We will be sure to help you through any building permit process.
Will Green Okie help me get permission through my HOA (home owners association?)
Yes. Should your HOA require a permit, Green Okie will assist you with the paperwork and designs necessary to satisfy your HOA.